Sun Devils go cold, no match for Cal's Mullins, Rabb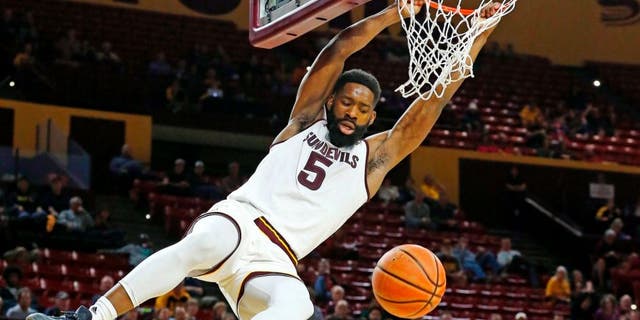 TEMPE, Ariz. -- Grant Mullins knocked down a season high six 3-pointers for 18 points and Ivan Rabb recorded his 24th career double-double, helping California coast to a 68-43 win over Arizona State Wednesday night.
Mullins, a graduate transfer from Columbia, went 6 of 9 behind the arc and Rabb had 14 points and 11 rebounds for Cal, winners of five straight games.
Cal (18-6 overall, 9-2 Pac-12) held the conference's second-best scoring offense 39 points under its per-game average.
ASU suffered through its worst shooting night of the season, making just 15 of 59 shots for 25.4 percent. The Sun Devils (11-14, 4-8) were 3 of 25 from 3-point range and have lost three of their last four games.
Arizona State went almost 11 minutes without a made field goal between the first and second halves, and the drought proved costly. Cal went ahead by 20 points early in the first half, taking a 46-26 lead with 12:33 to play on a 3-pointer from Mullins.
The Bears took a 24-point lead, 55-31, after another Mullins 3 at the 9:46 mark. They were never threatened in the second half and led by as many as 27.
Cal took control of the game when Arizona State's shooting went cold in the first half.
The Sun Devils turned an 11-4 deficit into a 15-14 lead in the first half, but failed to make another basket from the 7:38 mark to halftime.
The last two points the Sun Devils scored in the first half came on a pair of Obinna Oleka free throws with 6:27 left. Arizona State missed 11 straight shots but trailed by only 11, 28-17, at the break.
Oleka had 12 points and 14 rebounds for Arizona State.
The 17 first-half points was a season low for the Sun Devils.
Cal went on an 11-0 run while ASU struggled on offense, with Rabb's eight points leading the way along with a 23-13 rebounding edge.
BIG PICTURE
The Sun Devils have a chance to get out of the bottom four of the Pac-12 and get a first-round bye in the conference tournament thanks to four of their final six regular-season games at home. ASU is 7-5 at home this season.
CURTAIN CAMEO
Actor Charlie Day ("It's Always Sunny in Philadelphia," "Horrible Bosses") donned a neon green spandex outfit for appearances inside the Sun Devil student section's Curtain of Distraction early in the second half. The students chanted his name, and the Bears went 4 for 6 at the line with Day in action.
UP NEXT
Arizona State hosts Stanford on Saturday.