Sumner injured in Xavier win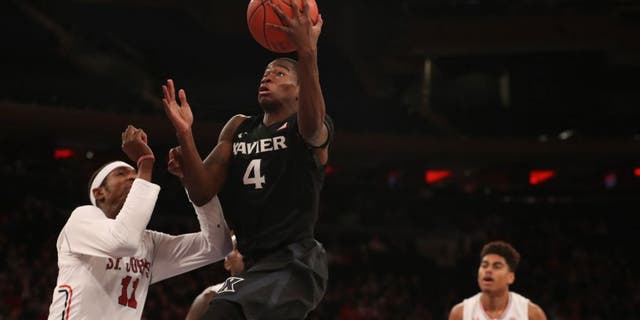 NEW YORK (AP) -- Chris Mack didn't have the look of a coach whose team just got a big win to stop a tough stretch of four losses in five games.
Mack met the media after No. 24 Xavier's 82-77 victory over St. John's on Sunday at Madison Square Garden and addressed the topic everyone was ready to ask about -- the health of point guard Edmond Sumner.
"It didn't look good, and we'll find out tomorrow when he has an MRI," Mack said of the sophomore point guard who went down with an apparent injury to his left knee with six minutes to go in the game. "I have no other information. Keep him in your prayers, but when he'll be back on the court, we just don't know."
Sumner had 17 points and seven assists for the Musketeers (15-6, 5-3 Big East), but he had to be helped off the court by teammates after he was fouled making a basket. He was unable to take the free throw, so Quentin Goodin, his freshman backup, took the foul shot for him and made it. Then he did a lot more.
St. John's had chipped down a 59-44 deficit with 9:50 to play to nine points when Sumner went down.
The Red Storm went on an 8-0 run right after the injury, and they were within 68-66 with 4:16 left.
Goodin then took over, running the offense, getting fouled and finishing with a season-high 16 points, including 7 of 9 from the free-throw line.
"The game flipped to St. John's favor when Edmond went down," Mack said. "Now you're dealing with a freshman point guard who got rattled a little bit, but I don't know how many freshmen would take that, respond to it and flip it. In the last three, four minutes, he set plays, he defended. I'm really happy for Quentin in terms of his ability to step up on such a big stage."
Goodin sounded like a veteran after the game.
"I feel it's my job as a point guard to run the team," he said. "I'm starting to get more comfortable as the season goes on."
So are his teammates.
"I think he has improved a lot," Trevon Bluiett said. "Not too many freshmen would be in that position behind a player that facilitates like Edmond. But when Edmond went down he was there."
Bluiett had 21 points and 10 rebounds for Xavier.
Shamorie Ponds led the Red Storm (10-13, 4-6), who had won two of three, with 23 points, while Bashir Ahmed and Marcus LoVett each had 11. The Red Storm finished 5 for 23 from 3-point range.
Kaiser Gates had two points and nine rebounds as Xavier controlled the backboards 45-26, including 17-6 on the offensive end.
"Overall it was a decent effort," St. John's coach Chris Mullin said. "We shot 5 for 23 from the 3-point line and the 17 offensive rebounds were the difference. The offensive rebounds came back to kill us, and we have to make more 3s."
BIG PICTURE
Xavier: The Musketeers came in having lost four of their last five games, and all the losses were to ranked teams. ... Xavier has three players in the top 16 in scoring in the Big East (Bluiett, Sumner, J.P. Macura) and those players are also in the top nine in minutes played in the conference.
St. John's: The Red Storm's 4-5 record at the halfway point in the Big East is their best since 2012-13. Last season St. John's was 0-9 at the midway point on the way to a 1-17 record. ... Tariq Owens, who had four blocks Sunday, leads the Big East in blocked shots at 2.3 per game, and Kassoum Yakwe is second at 2.2. The Red Storm average 6.3 blocks per game, 1.3 more than Big East runner-up Georgetown.
SWEEP STAKES
In the four seasons Xavier has been in the Big East, either the Musketeers or St. John's has swept the season series. Xavier has done it three times and the Red Storm did it in 2014-15. Xavier won the earlier meeting this season 97-82.
UP NEXT
Xavier: The Musketeers host Seton Hall on Wednesday.
St. John's: The Red Storm host Marquette at Madison Square Garden on Wednesday.