Stipe Miocic might be the best heavyweight in UFC history but he doesn't care about breaking records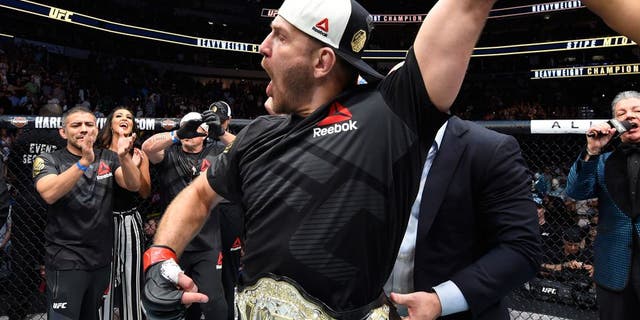 DALLAS There are a laundry list of great heavyweight champions throughout UFC history but still no fighter has ever defended the belt more than two times consecutively.
On Saturday night, Stipe Miocic tied that mark with his first-round knockout over Junior dos Santos and with his next fight he could break the record as the longest-reigning champion in UFC heavyweight history.
While that record has eluded everyone from Mark Coleman to Randy Couture to Brock Lesnar, Miocic seems to have all the tools to set a new bar for the heavyweight division with his speed, athleticism and the intangibles that make him a stylistic nightmare for almost everyone he faces.
"He's looking like the man," UFC president Dana White said about Miocic breaking the record. "Cleveland's killing it right now. He's not the same fighter, obviously, that fought [Junior dos Santos] the first time.
"Super athletic, he stays in the pocket now and punches with big guys. Lightning fast, he's a complete fighter and a really good athlete."
After beating Miocic in a five-round war in 2014, dos Santos was confident that he could do the same at UFC 211, but ended up suffering a first-round knockout instead.
As much as the loss stings, even dos Santos can admits that there's something truly special about Miocic and he has the chance to separate himself from everybody to ever compete in the heavyweight division over his next few fights.
"He's on the way," dos Santos told FOX Sports about Miocic becoming the greatest heavyweight in history. "Because he's doing actually great and like I said, I admire him. Like I said again, if I'm not the champion, I'm happy he's the champion."
Just as White is praising Miocic for the resume he's putting together and dos Santos complimenting him as a potential all-time great, the reigning and defending heavyweight champion isn't worried about all the accolades.
In fact, Miocic doesn't really even seem to care much that he could set a new record with his next title defense.
The only thing that matters to him is winning and holding onto the title and if he just so happens to make history then that's all the better.
"No, I really don't care," Miocic said about setting the record for most title defenses in the heavyweight division. "If I keep winning I'll break history big deal.
"I'm just going to keep winning. I like winning. I like being called champ especially."
Zuffa LLC via Getty Images | Zuffa LLC