Stipe Miocic flattens Junior dos Santos with vicious first-round TKO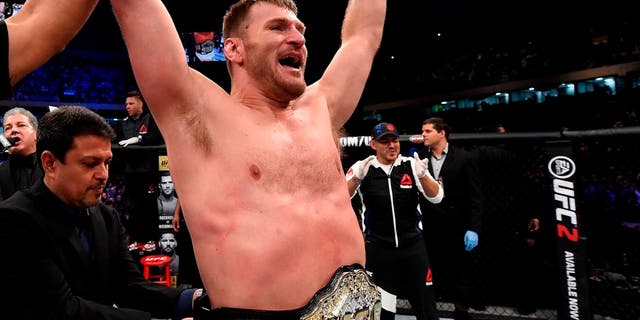 DALLAS Stipe Miocic is still the baddest man on the planet after his fifth straight knockout as he avenged his last loss with a vicious first-round finish over former champion Junior dos Santos on Saturday night.
It's been more than two years since Miocic tasted defeat on that night in December 2014, falling that night in a unanimous decision to dos Santos after a grueling five-round war.
Since then, Miocic not only redefined himself as the best heavyweight in the world but he hasn't allowed the judges to even render a decision while tearing through the top fighters in the world in his division.
As confident as Miocic was about his rematch with dos Santos, he still knew the Brazilian was very heavy-handed with some of the best boxing the UFC has ever seen.
Still, Miocic immediately established himself as the aggressor by stalking dos Santos across the cage while looking to land his sledgehammer-like punches.
Dos Santos countered with a couple of quick leg kicks, which Miocic blocked but his shin clearly got the worst of those exchanges with a gash opening up. That didn't slow him down, however, as Miocic continued to walk him across the cage while waiting for the perfect time to unleash his punches.
After throwing a hard combination at dos Santos' head, Miocic finally uncorked a right hand that blasted the No. 4 ranked heavyweight just behind the ear, which sent him crashing face-first on the canvas.
Miocic dropped to the mat and continue to blast away with punches until referee Herb Dean swooped in for the stoppage before dos Santos took any undue punishment.
The win came at 2:22 into the opening round.
"I am the best in the world," Miocic proclaimed after the win.
While UFC color commentator Joe Rogan attempted to get Miocic to name his next opponent, the Ohio native preferred to focus on more important matters at hand first.
He's currently in the middle of a construction project at home where he's rebuilding his kitchen and that's going to take his full attention after defending his title for the second consecutive time.
It may not be his focus now, but Miocic will go into his next fight with a chance to break the all-time record in the heavyweight division for title defenses. Despite a laundry list of legends who have competed in the UFC heavyweight division, the title has never been defended more than twice.
Miocic will look to set a new standard the next time he steps inside the UFC Octagon.