Stephen 'Wonderboy' Thompson believes he beat Tyron Woodley at UFC 205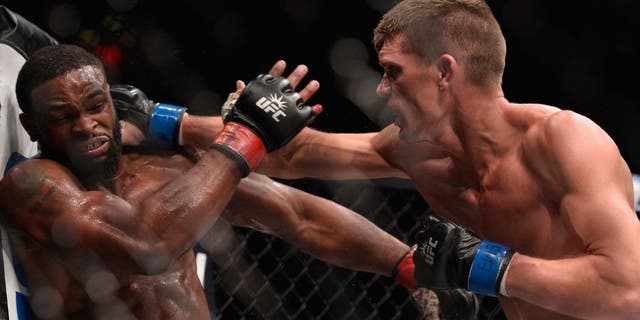 At the end of a close fight, somebody's heart is going to be broken but Stephen "Wonderboy" Thompson and welterweight champion Tyron Woodley had a much different reaction on Saturday night at UFC 205.
After an erroneous decision was read that declared Woodley the winner, the correct scores were tallied and the fight was rendered a majority draw.
It certainly wasn't the result Thompson wanted as he looked to win the welterweight championship in his first UFC title fight, but a draw was much easier to accept than the split decision loss that was originally handed to him.
"It was better than what it was in the beginning. Having him win the title and then they came back and said it was a draw. I take it," Thompson told FOX Sports at the UFC 205 post fight press conference. "It's not a win, obviously, so it's definitely disappointing but hopefully we can do it again.
"Hopefully we can get this fight happening again. Getting up, getting 'Fight of the Night' that was exciting, I know the fans loved it."
Thompson had to survive plenty of trouble in the five round war with Woodley to make it to a decision.
In round one, Thompson got taken to the mat where he ate a series of hard punches and elbows from the welterweight champion, the last of which opened a cut up over his eye as blood started streaming down his face.
Thompson then faced serious adversity in the fourth round after he was caught flush by Woodley's powerful right hand before nearly being submitted with a guillotine choke. Somehow, Thompson survived both of those near finishes and came back to land some hard shots of his own before the round ended.
"Ended up getting my head out and threw a few shots right after that and the bell rung. In the beginning, (the choke) was very close, yes."
Still despite those two scary moments, Thompson believes he did enough in the second, third and fifth rounds to deserve a victory at the end of the night.
Thompson is honest enough in the assessment of his own performance to know that he made mistakes and that may have cost him in the end, but if that was a bad night at the office and he went to a draw with the champion -- imagine what would happen when he's on point the next time.
"I thought I pulled it out in the last round just by out pointing him," Thompson said. "He definitely took the first round. He took the first round that was it. Busted me up with a few good elbows, few good shots, I was a little hesitant during this fight.
"I knew he liked to explode in and throw that big right hand. Hit him with a few jabs. I knew how strong he was in the clinch position, which led me to be a little more hesitant closing the gap and I shouldn't have done that. I should have let it all out."
The good news is UFC president Dana White has already said that a rematch between Woodley and "Wonderboy" is the fight that makes the most sense after the first bout ended in a draw.
Considering the welterweight title bout also earned "Fight of the Night" honors during one of the most stacked UFC cards in history bodes well for Thompson to get his rematch against Woodley.
"I think the fans and everybody were really excited. I think they were entertained," Thompson said. "Definitely want to do that again."