Stephen Curry says his tweaked ankle is just fine after Warriors' Game 1 win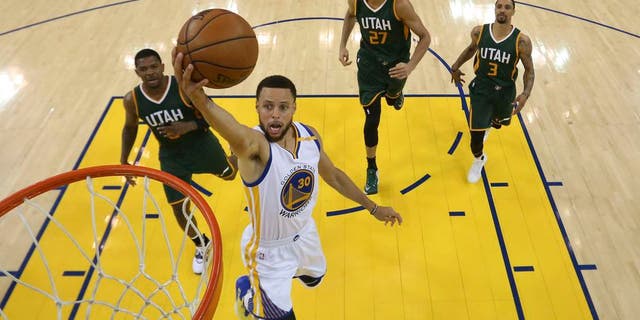 The Utah Jazz could be a real threat to the Golden State Warriors you know, in a few years.
In 2017, though, the Warriors are far too talented for the Jazz, as we saw in Golden State's 106-94 Game 1 win on Tuesday. All five Warriors starters scored in double figures, led by Stephen Curry's 22 points, and the Warriors point guard added insult to injury by roasting Jazz center Rudy Gobert with a ridiculous dribble-drive in the first half.
There was one moment of concern for Golden State, though, as Curry appeared to tweak his ankle on a layup in the second half. He was attended to by team physicians and sat out most of the fourth quarter, checking in for one offensive possession before Gobert was whistled for a flagrant foul on Draymond Green.
After the game, acting Warriors coach Mike Brownand Curry both told reporters the two-time MVP is fine:
Brown is standing in for head coach Steve Kerr, whois dealing withnausea, severe headaches and neck pain stemming from back surgery in the summer of 2015. Kerr suffered a spinal fluid leak from the procedure.
Earlier this week, Green told reporters the Warriors are approaching the playoffs with the expectationKerr will not return.