StaTuesday: The record-breaking month for Brewers Thames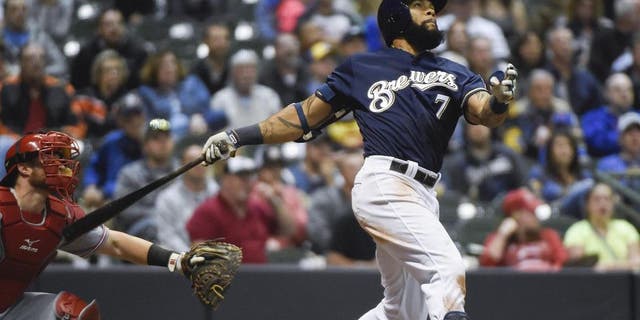 As any fan of the Milwaukee Brewers knows, Eric Thames had an incredible April.
Safe to say Thames was the biggest mystery on the Brewers coming into the season and also the biggest surprise. Thames finished the month with a slash line of .345/.466/.810, setting franchise records for home runs (11) and runs (28) in April.
Only two other player had hit 10 home runs in March/April in Brewers history -- Carlos Lee in 2006 and Ryan Braun in 2011, both with 10 (by the way, Lee would finish with 37 homers and Braun 33).
Thames is just one of 14 Brewers players to hit 10 or more home runs in any month during a season. Prince Fielder had 13 in May 2007 while four players had 12: Gorman Thomas (August 1979), Greg Vaughn (June 1996), Jeromy Burnitz (June 1999) and Richie Sexson (September/October 2001).
It wasn't just home runs for Thames in April. As mentioned, he had 28 runs, which is tied for the eighth most in any month in Brewers history. However, Thames had the fewest plate appearances (103) of any player who had 28 or more runs in a month. In fact, the next closest was 18 away. Thames averaged a run roughly every 3.6 plate appearances. So if he was able to get a few more times at bat .
Thames also got on base nearly half the time in April, with his .466 on-base percentage. That ranks 11th in franchise history (including the Seattle Pilots).
But all this being said, it is Thames' power which drew him the most attention.
Thames had an .810 slugging percentage in April -- that's the best for a Brewers player in any month, ever. Only six players have slugged .750 or greater in a month for the Brewers (min. 100 plate appearances).
From a major-league perspective, Thames is one of 25 players in history to hit 11 or more home runs in April, including Washington's Ryan Zimmerman this season. Of the remaining 23, 19 of those hit 30 or more home runs on the season.
Thanes hit eight of his April home runs against the Cincinnati Reds. That's the most a Brewers player hs ever hit against the Reds in any season (Fielder and Ryan Braun each had seven). Only George Scott with nine against Detroit in 1975 has more homers against one team over one season (Fielder had eight vs. the Cubs in 2010 and Vaughn with eight against Kansas City in 1996).
But Thames' eight home runs against one team in a month put him in even more exclusive company. He joined eight other players to accomplish that feat in major-league history.
Twice it happened in 1971: Willie Stargell against the Atlanta Braves in April and Deron Johnson against the Montreal Expos in July.
The only other time? Babe Ruth against the Philadelphia A's in May 1930.
When you can get yourself mentioned in a sentence with Ruth yeah, it was a good month.
Dave Heller is the author of the new book Ken Williams: A Slugger in Ruth's Shadow as well as Facing Ted Williams Players From the Golden Age of Baseball Recall the Greatest Hitter Who Ever Lived and As Good As It Got: The 1944 St. Louis Browns