StaTuesday: Recapping Giannis' incredible statistical season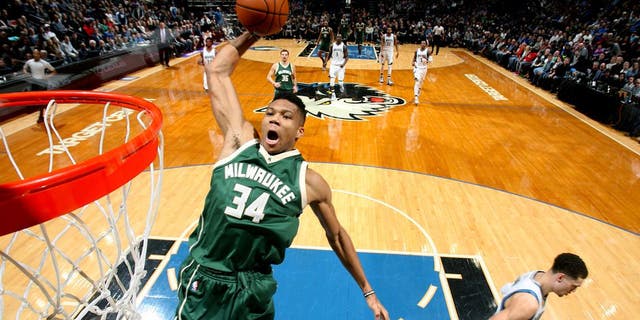 As the rest of the country is finding out with the Milwaukee Bucks in the playoffs, Giannis Antetokounmpo is a joy to watch.
His statistics are pretty fun to look at, too.
Antetokounmpo has improved statistically across the board in each season since entering the league as the Bucks' first-round pick (No. 15 overall) in 2013. This past season, Antetokounmpo set career highs in every significant statistic, including per game averages in minutes, points, rebounds, assists, steals and blocks, field-goal percentage and free-throw percentage.
In case you were wondering, here are the final regular-season stats for "The Greek Freak" (largely called that on national TV since they can't pronounce his last name): 35.6 minutes, 22.9 points, 8.8 rebounds (1.8 offensive), 5.4 assists, 1.9 blocks, 1.6 steals, 52.1 FG%, 27.2 3P%, 77.0 FT%.
Antetokounmpo led the Bucks in points, rebounds, steals and assists. He's just the fifth player since 1946-47 to lead his team in all five categories, joining Dave Cowens (1978-79 Celtics), Scottie Pippen (1994-95 Bulls), Kevin Garnett (2002-03 Timberwolves) and LeBron James (2008-09 Cavaliers).
Forgetting averages, Antetokounmpo became just the fourth player since 1973-74 to compile 1,500+ points, 700+ rebounds, 400+ assists, 100+ blocks and 100+ steals in a season. Two of those previous occasions occurred in 1975-76 (Milwaukee's Kareem Abdul-Jabbar and Phoenix's Alvin Adams) while Garnett did it five times, the last time in 2005-06. For the record, Antetokounmpo finished with 1,832 points, 700 rebounds, 434 assists, 151 blocks and 131 steals.
This past season, he had three games with at least five rebounds, five assists and five steals. Only Golden State's Draymond Green had as many such performances (also three) in 2016-17. Antetokounmpo also had 24 games with at least two steals and two blocks, most in the NBA -- New Orleans' Anthony Davis was next with 18.
Antetokounmpo also did things this past season rarely seen in Milwaukee over the years.
He's the only Bucks player other than Sidney Moncrief to average 20 points, five rebounds and five assists in a season (Moncrief did it once, in 1984-85).
This past season, Antetokounmpo had 22 games with at least 20 points and 10 rebounds. No Bucks players had done that in 20 or more games in 20 years (Vin Baker in 1996-97). Nine times Antetokounmpo had at least 30 points and 10 boards, the most for any Milwaukee player since at least 1984-85 and only three other players had done it in three or more games (Baker, Glenn Robinson and Terry Cummings) and none since Baker in '96-'97.
Antetokounmpo scored 20 or more points in 56 games this past season, the first time a Bucks player had 55 or more such games since Michael Redd did it 63 times in 2005-06. Giannis is just the fifth Milwaukee player with 55 or more 20+ points game in a season, joining Redd, Cummings, Marques Johnson and Abdul-Jabbar (who did it six times).
Further, Antetokounmpo had 18 games with 30 or more points, the most 30-point games since Redd had 20 in that '05-'06 campaign. He's also one of six Bucks to have 16 or more 30-point games in a season in franchise history, along with Redd, Ricky Pierce, Johnson, Abdul-Jabbar and Flynn Robinson.
He also added to his triple-double collection and now has eight in his career (all in the past two seasons), tied for the most in Bucks history with Abdul-Jabbar -- who did it in over 200 more career games in Milwaukee.
Antetokounmpo finished the season with a 6.9 VORP (Value Over Replacement Player), which ranks third all-time in Bucks history behind just, of course, Abdul-Jabbar, who had a 9.4 in 1973-74 and 7.0 in 1974-75. Only Ray Allen (6.0 in 2000-01) has finished with a 6.0 VORP or higher with Milwaukee. In addition, his PER (Player Efficiency Rating) of 26.1 is fifth-highest in Bucks history, behind just four Abdul-Jabbar seasons ranging from 26.4-29.9.
Giannis just missed out on becoming the first player since 1973-74 to have an assist rate of 25 percent or higher and a block rate of 5 percent or higher (finishing at 26.5 percent and 4.7 percent).
Oh well, there's always next season.
Statistics courtesy STATS, basketball-reference.com and StatMuse