Standoff 'delays' start of NLCS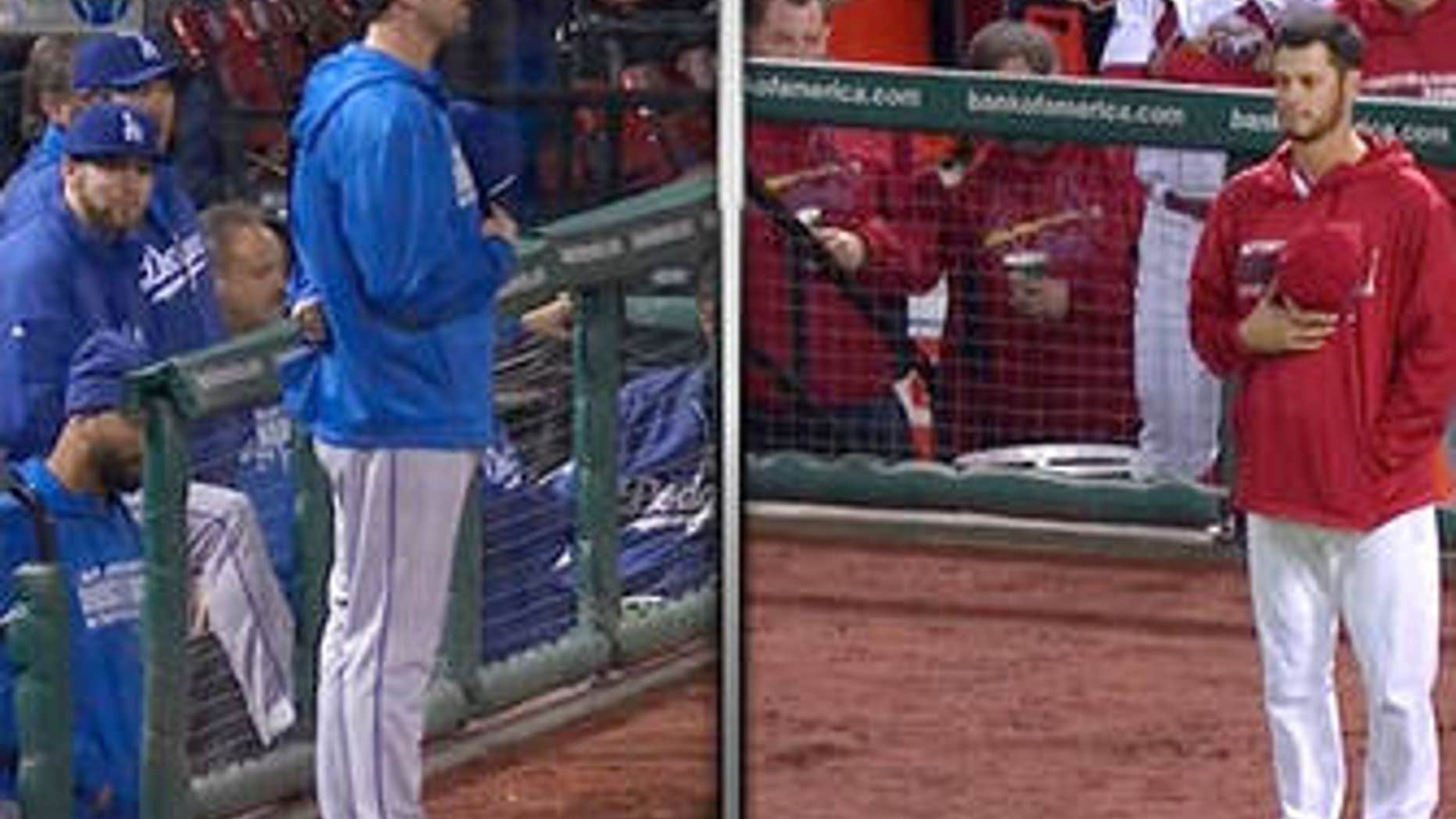 This wasn't a rain delay. It was the first pregame standoff delay in NLCS history as neither the Cardinals' Joe Kelly nor the Dodgers' Scott Van Slyke wanted to make the first move on Friday night before Game 6.
The two players stood in front of their dugouts during the national anthem and then did not move for more than 13 minutes, frozen in position. Finally the home plate umpire had to order them into their dugouts.
Kelly took the first step toward his dugout, and Van Slyke raised his arm in triumph as he retreated to his dugout, where he got congratulated by teammates.
Your browser does not support iframes.
The Dodgers, who have been accused of "Mickey Mouse" behavior throughout the series, seemed to be pretty amused by the standoff, as did the Cards -- and they got the last laugh with a 9-0 win, lifting them into the World Series for the fourth time in 10 years .
"It was fun," Kelly said after the game.
Scott Van Slyke vs. Joe Kelly standoff. Umpire had to tell them to leave the field. pic.twitter.com/Yhq04tplzW
-- Bleacher Report (@BleacherReport) October 19, 2013
Not gonna lie...that Van Slyke and Kelly standoff was kinda funny.
-- andrew mccutchen (@TheCUTCH22) October 19, 2013
That standoff was awesome! Little things like that make this game great! #NLCS
-- Jack Mayfield (@jackmayfield8) October 19, 2013
I thought the standoff between Kelly and Van Slyke was awesome.
-- kevin stinnett (@lancers1) October 19, 2013
Well played, Dodgers. Cardinal fans Love all Van Slykes #STLCards
-- The Sundogs (@TheSundogs) October 19, 2013
Scott Van Slyke and Joe Kelly had a National Anthem standoff... Umpire had to tell them to leave the field for first pitch. It was #Awesome !
-- Heidi Watney (@HeidiWatney) October 19, 2013
And, of course, to put it in perspective, the Miami Marlins' Logan Morrison.
This standoff is more awkward than randoms going for a ride in an elevator after someone farted! #awesome #gibbywouldgetmad
-- Logan Morrison (@LoMoMarlins) October 19, 2013
The original article can be found at FOXSports.com: Standoff 'delays' start of NLCS.