Spurs looks to close out the Grizzlies tonight in Game 6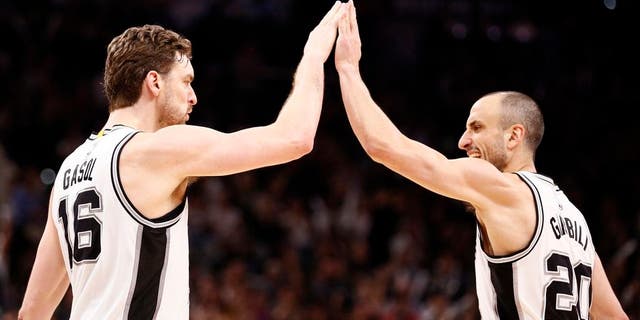 NEWYou can now listen to Fox News articles!
If the season is a guide, the San Antonio Spurs and Memphis Grizzlies will have a Game 7.
The home team is undefeated in nine overall meetings this season as Memphis hosts San Antonio on Thursday for Game 6 of a Western Conference first-round playoff series at FedExForum.
"We're treating every game like it's a Game 7," Memphis point guard Mike Conley said. "We're treating every game like it's the last game. We expect to come back (to San Antonio) -- that's our mindset."
Conley is averaging 27.3 points and 7.5 assists over the past four games.
The Spurs, who lead the series 3-2, used a late 12-0 run to put away the Grizzlies 116-103 on Tuesday.
To force a seventh game, Memphis must find an answer to its most pressing problem: slowing down San Antonio's Kawhi Leonard.
"If anyone has any suggestions, send them my way," Grizzlies coach David Fizdale said when asked about containing Leonard. "I'm listening. I'm open to ideas."
While the Grizzlies have been slightly better at containing the Spurs star at FedExForum, Leonard has still averaged 30.5 points in the two games there.
"We were sharper with our defensive execution at home," Fizdale said Wednesday. "It was night and day."
Leonard is shooting 48.8 percent from the field in Memphis but nearly 60 percent at home. He has missed only one of his 48 free-throw attempts in the series.
"(Leonard has) gone through the ceiling, improving every year, with all parts of his game." San Antonio coach Gregg Popovich said. "He understands that he's a facilitator as well as a scorer."
Spurs guard Manu Ginobili came off the bench Tuesday to provide a spark.
"He brought that grandpa juice is what I call it, and we all followed," San Antonio guard Patty Mills said after the game. "We shouldn't wait for him to do that before we get into gear, but it really is inspiring when you see him dive on the ball putting his body on the line. Hard drives, hard cuts, it gets us all going."
Prior to Game 5, Ginobili, who had 10 points on Tuesday, hadn't made a shot, but Popovich hadn't lost faith in his 15-year veteran.
"I'm going to use him like a bar of soap until there's nothing left," Popovich told the San Antonio Express-News.
The 39-year-old Argentinian, possibly playing in his final season, was 0-for-15, including 0-for-10 from 3-point range, in the series' first four games.
"You know it's not going to continue," San Antonio forward Danny Green told the San Antonio Express-News. "The numbers are with (Ginobili), so you tell him to keep shooting it. We have ultimate confidence in him."
To advance, the Grizzlies must hold serve at home and then knock off the Spurs in San Antonio on Saturday for the first time since December 2014.
"We're not going to back away from this," Fizdale said. "The good part is that I've got a locker room full of guys that want to get back and play Game 7. Well, Game 6 (first) is obviously our Game 7."