Source: Johnny Manziel likely to start at QB for Browns Sunday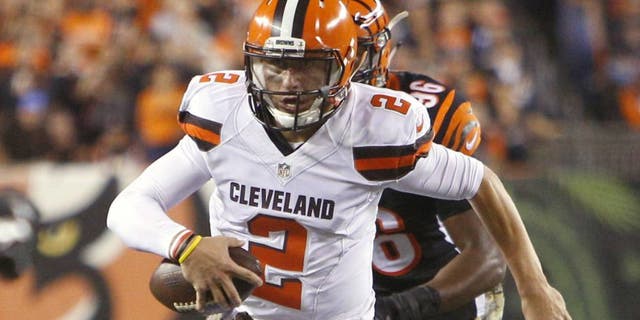 NEWYou can now listen to Fox News articles!
So, who will it be?
A source told FS1 NFL Insider Mike Garafolo on Friday that Johnny Manziel will likely start for the Cleveland Browns on Sunday against the Pittsburgh Steelers. The team has refused to publicly announce their decision.
With McCown still limited by injured ribs, Manziel took the majority of snaps with Cleveland's starting offense this week in practice. Signs are pointing to the 2012 Heisman Trophy winner making his fifth career NFL start -- and third this season -- on Sunday. Manziel started in place of McCown last week and passed for 168 yards and one touchdown in a 31-10 loss to Cincinnati.
McCown, who returned to practice on Wednesday, has improved each day. Pettine said if he's healthy enough to play, the 36-year-old will start. With a bye week coming up, it's possible the Browns will give McCown another week to recover.
McCown is listed as questionable -- a 50-percent chance of playing -- on the team's final injury report of the week.
Some fans might argue it won't make a difference which quarterback plays for the struggling Browns (2-7). Pettine, a former defensive coordinator, said knowing who is playing in advance makes a big difference.
"If you're game planning, let's just say you're going against a guy that can potentially scramble and you're going to have calls up as far as setting your plan and kind of having your A plan and knowing who it's going to be and being able to review that on a Saturday night," he said. "You can force the mindset to kind of dovetail a little bit, `Hey, here's plan A, here's plan B,' without saying, `It's definitely going to be this.'"
The Browns haven't won in Pittsburgh since 2003 -- an 11-game losing streak -- and Cleveland is just 6-26 against the Steelers since 1999.
As he prepares for another possible start, Manziel remains under investigation by the NFL for his involvement in a recent domestic dispute. The league is checking whether Manziel violated its personal conduct policy.
-- The Associated Press contributed to this report