Social media roundup: Astros reflect on 2015 season after falling short in ALDS Game 5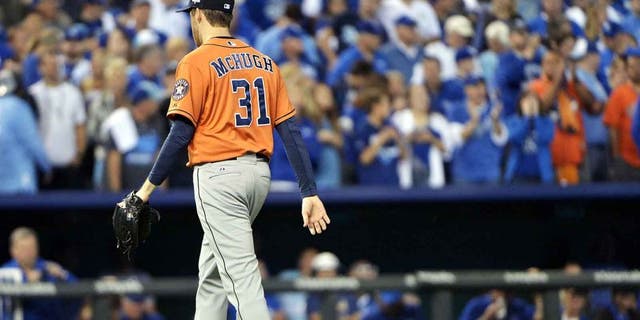 NEWYou can now listen to Fox News articles!
The Houston Astros' miraculous and (mostly) unexpected 2015 run came to a screeching halt on Wednesday, as they lost Game 5 of a tensely-fought ALDS to the Kansas City Royals by a score of 7-2.
After seeing their eighth inning lead in Game 4 evaporate to force a Game 5, they just couldn't solve Royals starter Johnny Cueto on Wednesday night at Kauffman Stadium. After the game, the players and manager A.J. Hinch sounded frustrated, but also proud of what they accomplished this season.
Hinch summed up the team's mood after the game, as captured by MLB.com's Brian McTaggart and Jeffrey Flanagan: "It's very tough. There's not a man in that room that wanted the season to end. There's going to be 29 teams that go through what we're going through today. There's going to be one champion. So it hurts. It hurts to know that we put everything that we could into this season and it ends abruptly. Seasons like this end really quickly, and you're never ready for it. It never feels good."
Below, a collection of quotes and videos collected by Evan Drellich of the Houston Chronicle, Brian McTaggart of MLB.com and the Astros' team Twitter account sum up the mood in the clubhouse after the game:
And what of Colby Rasmus? The outfielder slugged four big home runs for Houston in the postseason and finished with a .429 batting average, but he's a free-agent-to-be. While it's unclear whether he will return next season, his comments after Game 5 did seem to have a sense of finality to them:
Instead of a deeper October run, the Astros now have to set their sights on a 2016 season that should find them stronger and more seasoned, especially now that their talented young core has a few weeks of pressure-packed October baseball under its belt.
Extending the sense of pride and appreciation expressed in the comments above, team president Reid Ryan and pitcher Lance McCullers also conveyed thanks to Astros fans for their support throughout the year:
Because that's how baseball works, the Astros' 2016 home opener will take place on April 11 against...the Royals.