Slimmed-down Mark Hunt looking for revenge against Antonio Silva at UFC 193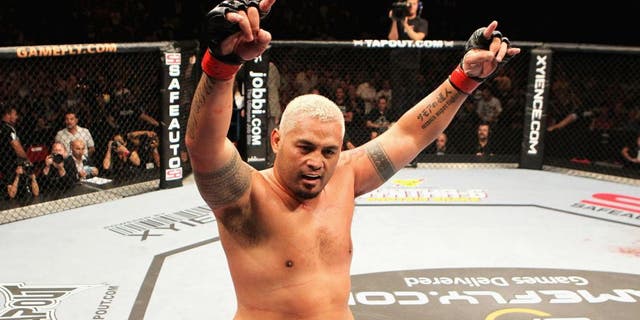 UFC heavyweight contender Mark Hunt has struggled with his weight for years. Heading into his rematch against Antonio Silva, however, Hunt is on a new diet and training program that he believes will have him lighter than perhaps we've ever seen him before.
"We're just concentrating on weights and building a strong base. I'm about 131 kilograms [288 pounds] at the moment, but I feel pretty good," he told Submission Radio, recently.
That's notable because, though the heavyweight weight limit is 265 pounds, Hunt has often begun training camps around 300 pounds. Now, about two months before he'll fight "Bigfoot" in Melbourne at UFC 193, he's already much lighter than he has been at similar points in the past.
The "Super Samoan" expects to be a great deal lighter by fight night. "I'm in good shape for camp, so it's gonna be good," he promised.
"I'll probably come in hopefully at about 115 kilograms [254 pounds] without a weight cut. So it's going to be great."
Hunt rightly believes that he suffered from having to drastically "cut" water weight before recent fights, due to coming into fight week so heavy. This time around, he will rely on fitness to keep him sharp in the bout.
"I started my pre-training way before, to help with Soa's [Palelei] camp, and I'm just back home now. So I'm going to be getting into my training and starting my camp in the next couple of weeks, three weeks. So, I'll be in tip-top shape, and I won't make the mistake I did last time. I was up having to cut weight. So, I'll be fine."
Hunt expects that the slimmed-down version of himself will do well against Silva, obviously. The two first fought to a draw in 2013 after five rounds of bloody battling.
Hunt says the fight will not go nearly so long, this time around. "It will end pretty quickly," he said.
"First round by knockout. First round."
Hunt has lost his last two fights by TKO, to now-champion Fabricio Werdum and to Stipe Miocic. Silva, on the other hand, is coming off a stoppage win over Hunt's friend and training partner Soa Palelei.
Silva having just beaten Palelei last month will add a lot of extra motivation for Hunt. "It's a bit of redemption," he admitted.
"It's time to [get a] bit of revenge, actually. But it will be good, though. I mean I was disappointed that Soa lost that fight ... But it will be god to get some revenge."