Six Points: Green Bay Packers vs. Washington Redskins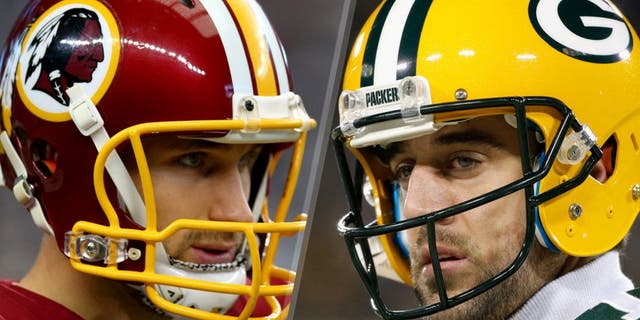 The NFC Wild Card matchup will feature two quarterbacks that are both coming off of surprising seasons.
Aaaron Rodgers was unable to break the 4,000 yard mark, and threw seven less touchdowns than he did just the season before. His Green Bay Packers passing attack wasn't as strong as it should have been, especially with the abscence of Jordy Nelson, but Rodgers brings a clean slate and a strong pedigree to his playoff matchup.
Kirk Cousins was given the reigns to the Washington Redskins' offense, and he never looked back, going on an absolute tear in the latter half of the season. Cousins will take part in his first ever playoff game, and he has a lot of working pieces that will help him out along the way.
Here are the three key points that can win each team the game.
Can you beat the Crowd's Line? Submit your final score prediction below. Good luck!
Packers
Protect Rodgers and let him sling it
Rodgers ate 13 sacks in the last two weeks of the season, bringing his total up to 46 for the year (second most in NFL). The Packers must do something to improve their pass protection, especially if left tackle David Bakhtiari can't play on Sunday. At the same time, head coach Mike McCarthy needs to cut out the conservative play-calling; the offense is most dynamic when Rodgers is playing with a sense of urgency and slinging the ball around the field.
Create turnovers and capitalize on them
The Packers have an aggressive defense that will try to take advantage of Cousins, who is starting his first playoff game this Sunday. If they do force a rare interception or fumble, the offense must take advantage of the opportunity. Green Bay created four takeaways in the final two weeks of the season; the ensuing drives yielded zero points and three giveaways.
Focus coverage efforts on Jordan Reed
Wide receivers DeSean Jackson and Pierre Garcon will draw the immediate attention of Green Bay's defense, but tight end Jordan Reed was more productive than both of them with 87 catches for 952 yards and 11 touchdowns in 2015. The Packers have the athletes at cornerback to hang with Jackson and Garcon, so their top concern should be to limit Reed's impact. Safeties Ha Ha Clinton-Dix and Morgan Burnett will have to step up, since Green Bay's inside linebackers aren't very good in coverage.
Redskins
Utilize a versatile backfield
Matt Jones is most likely going to be a game time decision, but if he is able to go, the Redskins have a lot of weapons at their disposal in the backfield. And with so many options, the Redskins have to keep the Packers on their toes. The Packers are already going to be concerned with Cousins' pass attack -- he should be able to move the ball over the field -- but if Washington can mix things up in the run game, it makes them all the more deadly. Handoffs to Alfred Morris, pitches to Jones, dump passes to Pierre Thomas. Whoever is in the backfield needs to keep the Packers guessing, and that's done by having a successful backfield.
Blitz Rodgers plenty and often
As previously mentioned, the Packers' offensive line has surrendered an absurd amount of sacks this season. But the key is to rush Rodgers intelligently. Few are better at extending plays in the pocket than Rodgers, and if either one of Randall Cobb or James Jones gets open for even a second, Rodgers will find him. If the Redskins are going to blitz, they absolutely need to get to him, or they'll get burned.
Force Rodgers to turn the ball over
This season, when Rodgers doesn't throw an interception, the Packers are 7-2 on the year. But when Rodgers does give one up to the other team, Green Bay is 3-4. Rodgers has the ability to meticulously carve away chunks of yardage. But if he goes for the long ball, the safeties need to pounce on it. DeAngelo Hall and Dashon Goldson (who has been limited at practice all week with a shoulder and ribs injury, and is questionable for the matchup) can't get beat deep down the field, and corners Bashaud Breeland and Will Blackmon need to shutdown Cobb and Jones as best as they can.