Six Points: Cardinals vs. Rams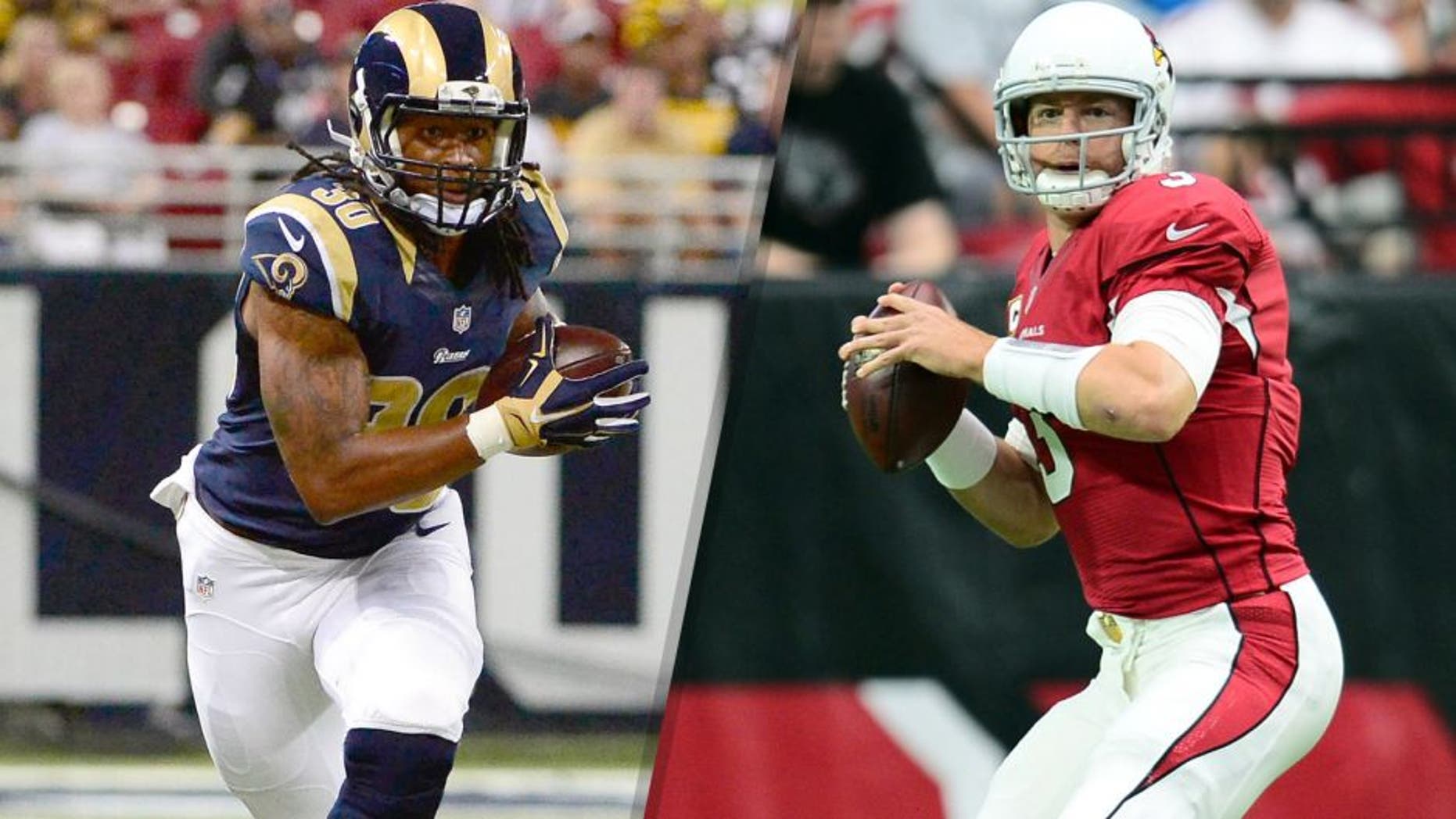 The Arizona Cardinals (3-0) have continued to build upon their strong start week by week, while the St. Louis Rams (1-2) have gone the opposite direction after a season-opening victory.
In a positive sign for the Rams, rookie Todd Gurley made his debut in Week 3, seeing limited action; however the offense as a whole is a work in progress. The Cardinals, meanwhile, are clicking on all cylinders on both sides of the ball; the chemistry between Carson Palmer and Larry Fitzgerald has been quite evident through three weeks.
Here are three keys to the game for both the Rams and Cardinals.
Can you beat the Crowd's Line? Submit your final score prediction below. Good luck!
RAMS
1. Pressure Palmer
If there's any defensive line that can make Palmer uncomfortable, the Rams have the playmakers up front to do that. The Cardinals' offensive line has allowed one sack through three games, while the Rams are tied for first in the league with 13. Something has to give.
2. Contain Fitzgerald
The chemistry between Palmer and Fitzgerald has been instrumental in the Cardinals hot start. The veteran has posted back-to-back 100-plus yard receiving and multi-touchdown games; he ranks fifth among receivers in receiving yards (333) and first in touchdowns (five). Arizona has other weapons on the outside that are also dangerous, but Fitzgerald has been a one-man wrecking crew
3. Run the ball effectively
The Rams tried to beef up their offensive line and drafted Gurley for a reason this offseason. However, through three weeks, they rank 29th in rushing yards per game (71.3). If there's a time to utilize what the Rams envisioned as their long-term plan, this week is it. The thinking is two-fold: keep Palmer off the field and allow the defense to keep fresh.
CARDINALS
1. Offensive balance
The Cardinals' aerial attack is dangerous. But what has turned their offense into arguably the best in the league is the presence of a running game --" something the team did not have in 2014. Softening up the Rams' front seven with an effective ground game will open up other options on the outside in the passing game.
2. Get Michael Floyd involved
Bruce Arians acknowledged the team tried to get Floyd the ball during his Week 3 return, and it looks like the wide receiver's role will increase moving forward. With defenses likely trying to key in on Fitzgerald after his hot start, Floyd would be one of the possible beneficiaries of the situation.
3. Protect Carson Palmer
Although the Cardinals offensive line has done a terrific job of protecting Palmer, the Rams boast one of the best --" if not the best --" defensive fronts in the league. Keeping their signal caller upright and unscathed is perhaps the most important thing Arizona should be concerned about, considering Palmer got hurt against this same Rams team last year.