Sidney acting like we've enabled him to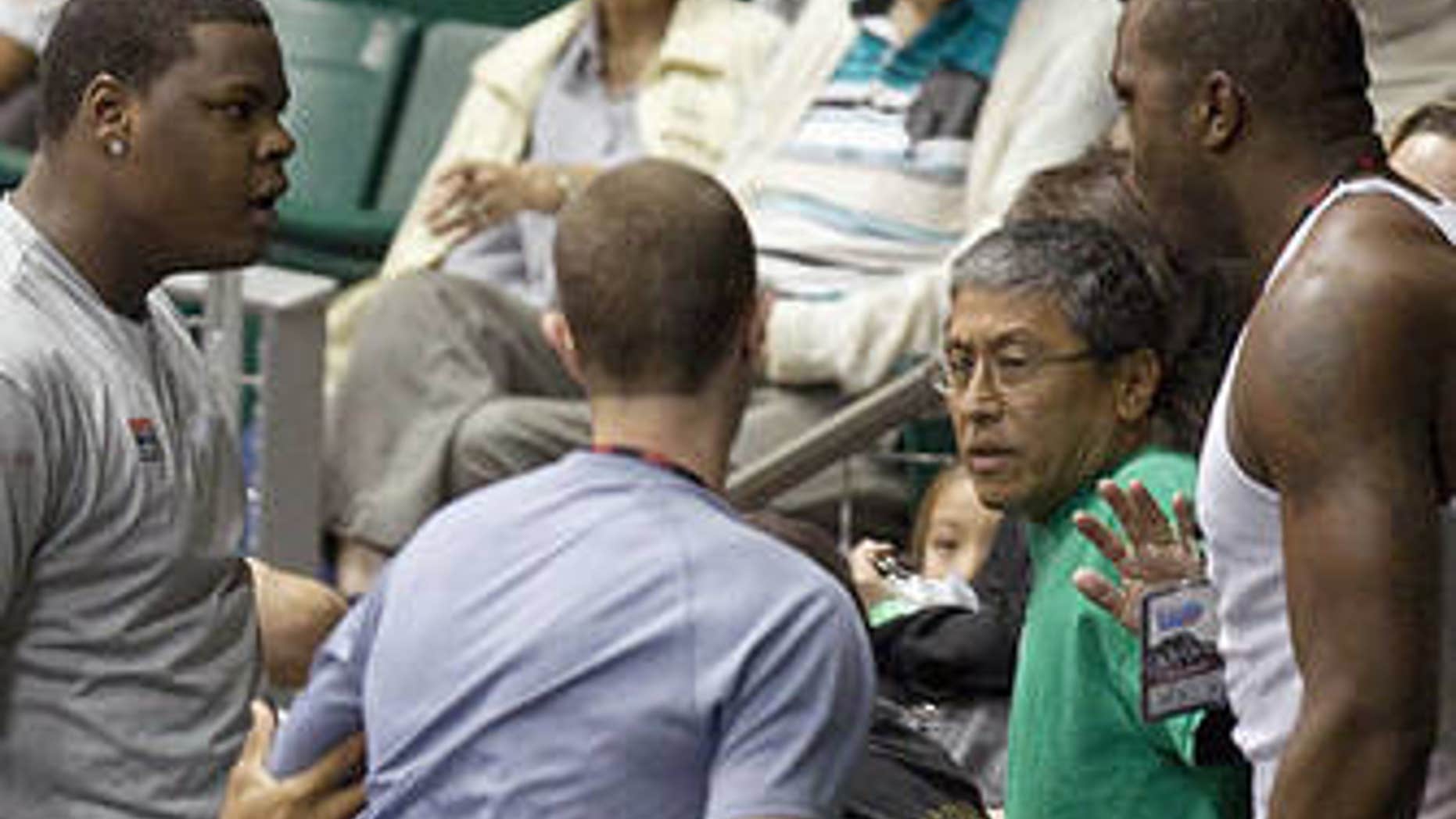 There was Renardo Sidney, up in the stands throwing haymakers at his Mississippi State teammate, fresh off a one-game suspension from his coach and a week or so removed from an NCAA-imposed suspension that lasted all of last year and the first nine games this season.
Clearly, Sidney's a mess.
The 6-foot-10, 275-pound Mississippi native should know better. No, make this he has to know better than to get into it with teammate Elgin Bailey with all the world to see.
Big Sid isn't 15 years old and at ABCD Camp anymore. He just turned 21 a couple of weeks ago, and his reputation doesn't exactly allow him much margin for error.
While another one of his teammates claims Sidney didn't start this altercation -- and that might well be the case -- he could have ended it.
Without any punches being thrown.
"I'm very sorry for this incident," Sidney said in a statement Friday, after being indefinitely suspended from the team. "I had no intention of this ever happening. I apologize for embarrassing my family, all the Mississippi State fans, my teammates and coaches. I will learn from this and move on."
However, let's not place all the blame on the ultra-talented Sidney.
There are others who belong in the fault line here, too.
How about his father, who decided to capitalize on his son's potential and move the entire family from the deep south all the way to Los Angeles?
How about Reebok, which employed and enabled Mr. Sidney?
How about the grassroots basketball culture and all the agents, runners and other hangers-on who I've seen toss heaps of praise on Big Sid after he walks off the court following yet another uninspiring performance?
Some kids and their families are able to handle all the success that comes with being a child prodigy. Some others just aren't.
For every Kevin Durant and Blake Griffin, there are two or three Lenny Cookes and DeAngelo Collinses.
Sidney was, at one point in time, considered the latest can't-miss prospect. Just about everyone had him pegged as the No. 1 player in the country at one time.
He possesses as much God-given ability as anyone in college basketball right now. Yes, that includes Kyrie Irving, Jared Sullinger, Perry Jones and even Enes Kanter.
Just think of a bigger, stronger and just as versatile Lamar Odom.
Sidney can dominate in the paint, step out and make shots from the perimeter, handle the ball in the open court -- and also rebound and block shots.
If he feels like it.
The problem is Sidney has been enabled.
By everyone.
His parents never held him accountable, either on or off the court. It was the same for guys like former sneaker company czar Sonny Vaccaro and his right-hand man, Chris Rivers.
So now Sidney stands at a crossroads where, if he somehow makes the right decision, could lead him to a lengthy career in the NBA.
Or -- and this appears far more likely -- he takes the path that makes him the topic of conversation of hoops diehards.
"Whatever happened to that kid, Renardo Sidney? Man, he was one hell of a player who just disappeared."
His college basketball debut came last week in near-anonymity, in front of a few hundred fans in the Bahamas in a game that wasn't even televised. One college coach in attendance said Sidney was "skilled but out of shape."
Another texted me the following: "Talented DOG. Bad Teammate. Not a winning player."
Given recent developments, it's hard to argue with that.
Here's a kid who waited nearly two years to make his college basketball debut after a year-long NCAA investigation that concluded he received improper benefits and was also guilty of unethical conduct by lying to the NCAA during its investigation.
Just hours after his debut, Sidney, according to sources, got into an altercation with a walk-on at practice.
Mississippi State coach Rick Stansbury had no option but to suspend Big Sid, but the damage had already been done.
Sources told FOXSports.com that many of his teammates want Sidney out of Starkville.
But Stansbury did what everyone else has done with Sidney his entire life: He looked the other way.
Maybe Stansbury needs to talk with Memphis' second-year coach, Josh Pastner, who dismissed talented freshman Jelan Kendrick - a McDonald's All-American - before the start of the season for his inability to respond positively to authority and coexist with teammates.
Instead, Stansbury hit Sidney with a one-game suspension and Big Sid was back on the court Thursday, putting up 19 points and grabbing six rebounds in a win against San Diego in Hawaii.
Then, hours later while watching games in the stands, a fight broke out. There was no video of Sidney's debut down in the Bahamas, but the scuffle was caught on tape - and it's embarrassing for everyone involved - including Mississippi State.
There's Sidney and another heavyweight, the 6-foot-8, 265-pound Bailey, trading punches with fans only a few seats away.
On Friday, Mississippi State suspended both players indefinitely and sent them home from Hawaii.
"Our athletic staff, coaches and student-athletes have a responsibility to conduct themselves in a manner that brings credit and honor to our university," MSU athletic director Scott Stricklin said in a statement. "The actions that took place Thursday night in Hawaii were embarrassing to all of us who love Mississippi State University and our athletic program. This behavior will not be tolerated."
Sidney isn't a kid anymore, but he's still acting that way.
It doesn't matter whether Bailey started it or not.
Sidney made yet another mistake.
Why?
Because Sidney, believe it or not, doesn't always comprehend right from wrong.
I spoke with him hours after his college debut en route to Hawaii. He had scored 12 points in 25 minutes, and there he was talking about how he can't be stopped and how - after a few more games to get into shape - we'd all see the Young Renardo.
The one who had everyone in awe back at Vaccaro's ABCD Camp.
However, after his involvement in an embarrassing incident that took place while most of the nation slept on Friday morning, I'm not sure we'll ever see the Young Renardo again.
Young Renardo was the one who told me he was committing to Alabama back in the eighth grade. Young Renardo was the one who was leading the fast break and making his teammates better.
That was the Renardo I fell in love with back in the day. But now he's gone. And he's likely gone for good.
Blame him, but he's not alone in all of this. There is plenty to go around this holiday season.