Sean Monahan showcases sweet hands with between-the-legs goal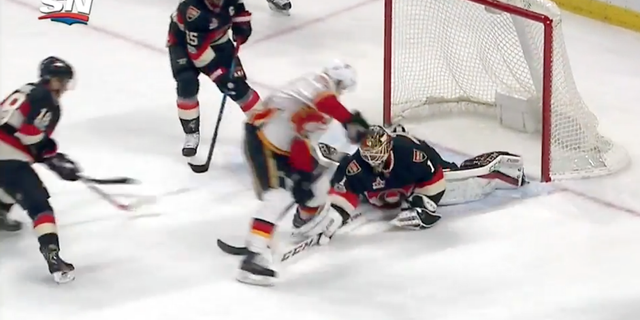 Sean Monahan can pat himself on the back for the awesome highlight reel goal he tallied on Thursday in Ottawa. The Calgary Flames forward managed to get on the scoreboard when he gathered a juicy rebound in front of the net and shot the puck through his legs to light the lamp.
Sure, it wasn't the most glamorous between-the-legs goal that hockey has ever seen. But any time a player shows off the creativity and skill to finish in such a fashion, it's worth taking some time to appreciate. If nothing else, it's a really amazing visual to see a professional hockey player go between-the-legs for a scoring chance.
And to not only finish that chance, but also make it look pretty easy? It's a thing of beauty.