Seahawks need jab, bat and officiating error to finally KO Lions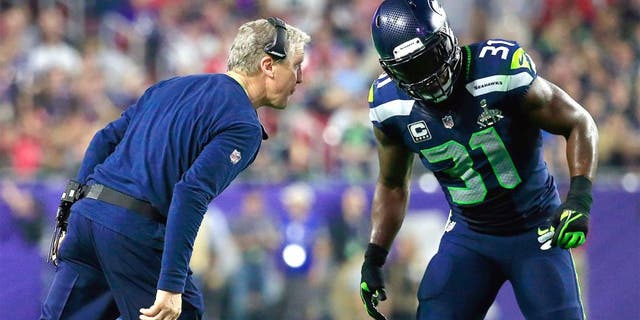 NEWYou can now listen to Fox News articles!
As good as the Seattle Seahawks' defense was Monday night, it took a jab and a bat to deliver a knockout blow to the Detroit Lions.
Seahawks safely Kam Chancellor made a game-saving play with under two minutes to play by punching the ball loose from Calvin Johnson just before the Detroit receiver lunged over the goal line.
As the ball bounced toward the back of the end zone, Seattle linebacker K.J. Wright ensured their would be no recovery by the Lions by batting the ball out of the back of the end zone. End of story, right? Nope, more like the beginning of a furor.
Shortly after the game, it came to light that Wright's bat constituted a penalty, which should have resulted in the Lions being awarded the ball inside the 1-yard line with 1:45 to play.
NFL VP of Officiating Dean Blandino told the NFL Network that Detroit should have retained possession because it is a foul to "bat the ball in any direction in end zone." However, because batting the ball is a judgment call, it is not reviewable.
Seahawks coach Pete Carroll said after the game that Wright was trying to knock the ball out of the end zone and admitted: "We were fortunate."
MORE NEWS: Want stories delivered to you? Sign up for our NFL newsletters.