Scouts honor: Cardinals rookie Johnson merited higher draft pick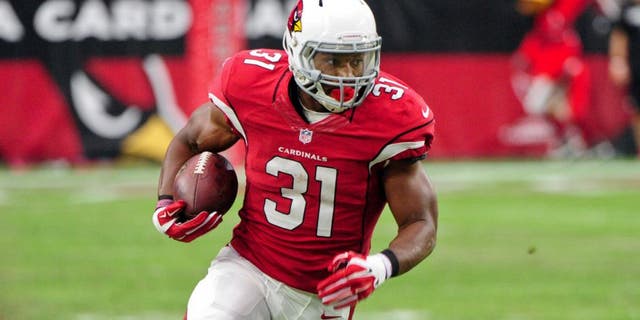 The meteoric rise of Arizona Cardinals rookie running back David Johnson begs a simple question: How did he last until the No. 86 pick in the NFL draft?
Cardinals coach Bruce Arians offered the simplest explanation, pointing to the fact that Johnson did not come out of a football factory.
"Probably Northern Iowa. People don't respect smaller school guys sometimes," Arians said Monday on his weekly radio show. "They get looked at height, weight and speed guys, but when you watched him against Iowa State and Iowa and all the teams that they did play, he wasn't a fish out of water."
Johnson certainly has the requisite size at 6-foot-1, 224 pounds and answered any questions about his speed by running a 4.5 in the 40-yard dash at the NFL Combine. Still, he lasted until late in the third round and was the seventh running back taken overall.
Among the backs selected in front of Johnson were third-round selections Tevin Coleman of Atlanta and Duke Johnson of Cleveland. Coleman won the starting job in training camp, but quickly lost it due to injury, fumbling issues and the success of Devonta Freeman. Johnson's primarily role has been as a third-down back with the Browns.
"We loved the kid coming out of college," one NFL assistant coach told the Arizona Republic's Kent Somers, who polled three talent evaluators - two anonymously - on how David Johnson was rated entering the draft. "He's a legitimate playmaker, pure and simple. He's been a real find for them, and it's one of the reasons they're doing what they're doing. I think they are the best team in football."
Johnson's overall numbers, aside from his 13 touchdowns, are fairly modest since he received three or fewer carries in eight of his first 11 games, serving as the team's kick returner and pass-catching threat out of the backfield.
"It's tough to say what a rookie is going to do," said Cardinals director of scouting Dru Grigson, who made a special trip to Northern Iowa on the advice of one of his scouts. "He's exceeded all expectations. We were hoping we'd see this type of back two, three years down the road. He's come in and done it in Year 1."
Johnson took over the starting job in Week 12 following injuries to Chris Johnson and Andre Ellington and hasn't looked back. After rushing for more than 90 yards in each of his two starts, he had his coming-out party in a prime-time matchup at Philadelphia, rushing for 187 yards and three touchdowns.
"The No. 1 thing that showed up on film is he was a big, fast guy and that translates to success in the league. And No. 2, his playmaking ability jumped out immediately," another NFL assistant told Somers while comparing Johnson to Chicago's Matt Forte. I knew B.A. (Arians) would look at this kid and say, 'I have something special here in terms of what I like to do in the passing game.' And it's worked out. He's such a great kid. We loved him."