Sashi Brown: Moving up in draft would be 'shocking,' trading down more likely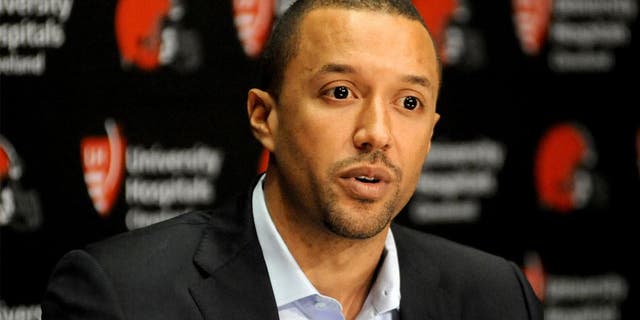 NEWYou can now listen to Fox News articles!
The new man calling the shots in Cleveland doesn't seem to have his eyes on the first overall pick in the 2016 draft.
Sashi Brown, the executive most recently empowered with final say over the team's 53-man roster, told Cleveland.com at Tuesday's Senior Bowl practice that trading down from the No. 2 pick is more likely.
With a quarterback situation tenuous at best once again. the Browns will certainly take a close look at the top passers available. North Dakota's Carson Wentz is drawing a lot of early buzz as are California's Jared Goff and Paxton Lynch of Memphis.
The Browns will also have the first pick of the second round at 32nd overall, which is essentially a No. 1 pick since the Patriots lost their selection due to Deflategate. Having two picks in the opening round hasn't worked out so well for the Browns. In 2014, they selected Justin Gilbert and Johnny Manziel, both of whom have offered little return on investment. Danny Shelton and Cameron Erving were the picks last year. In 2012, Cleveland selected Trent Richardson and Brandon Weeden.
"Hopefully the results will be better,'' Brown said of his team's draft futility under its previous regimes.