Sans its two stars, TCU sees an impressive touchdown streak snapped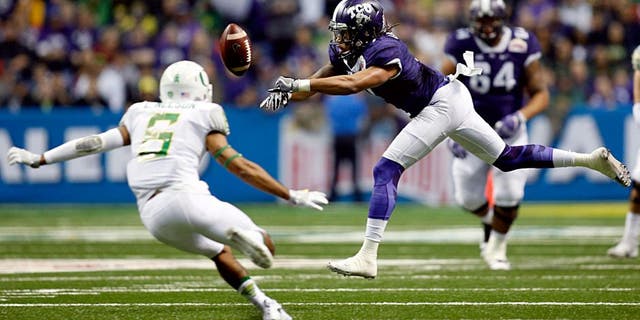 TCU's offense is feeling the effect of not having senior stars Trevone Boykin and Josh Doctson.
The Horned Frogs were held scoreless in the first quarter of Saturday's Alamo Bowl against the Oregon Ducks, snapping a 25-game streak of scoring a first-quarter touchdown. It is a Big 12 record and was the FBS' longest streak since 1996 when Stanford also did it 25 times from 2009-11.
Senior backup QB Bram Kohlhausen started in place of Boykin, a two-time Heisman Trophy candidate who was suspended for the game earlier this week after he was arrested during a late-night incident at a San Antonio bar. Doctson suffered a late-season wrist injury and wasn't able to make it back for his final game at TCU.
TCU managed just 64 yards of total offense in the first quarter. Meanwhile, Oregon, behind senior quarterback Vernon Adams Jr., rolled to a 21-0 first-quarter lead and racked up 244 total yards. Oregon led 31-0 at halftime, giving TCU its first scoreless first half in 14 bowl games in the Gary Patterson era.