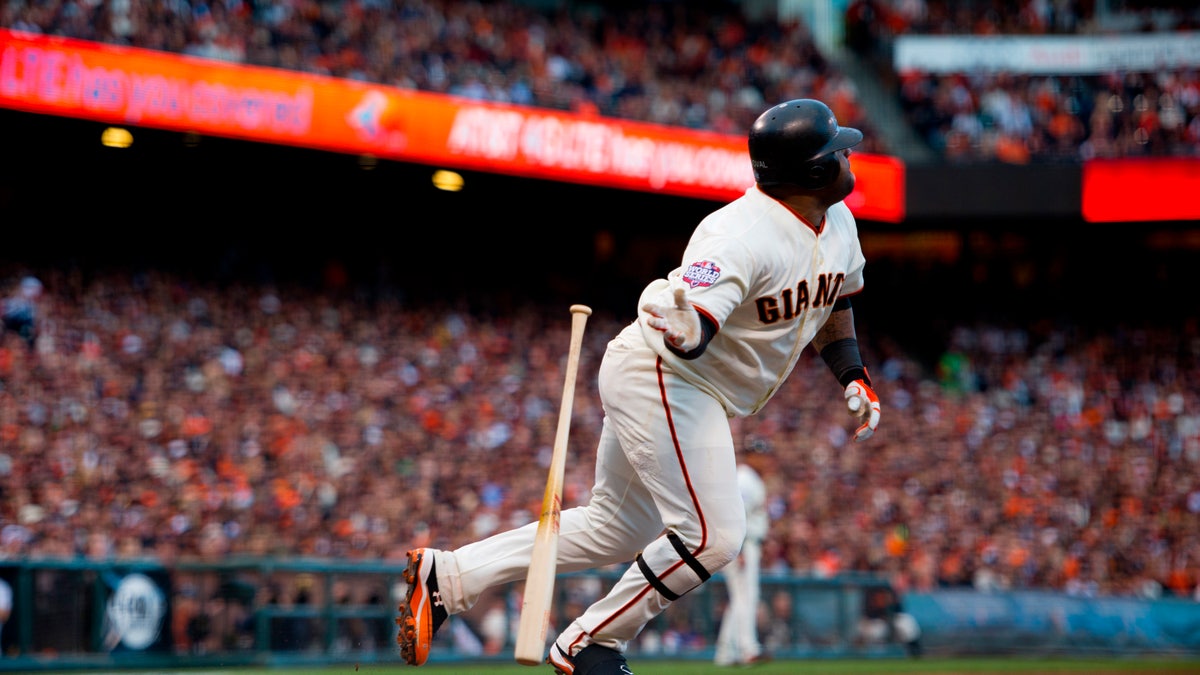 SAN FRANCISCO – With three mighty swings, Pablo Sandoval put the San Francisco Giants ahead in this World Series and put himself in a class with Mr. October.
Sandoval hit three home runs and joined Reggie Jackson, Babe Ruth and Albert Pujols as the only sluggers to do it in the Series, and the Giants jolted Justin Verlander and the Detroit Tigers 8-3 on Wednesday night in Game 1.
A rollicking AT&T Park crowd -- a sea of black and orange outfits -- roared as Sandoval connected in his first three at-bats. Popular in the Bay Area as the Kung Fu Panda for his roly-poly shape, he went 4 for 4 and drove in four runs. A Giant panda for sure.
From start to finish, it was basically a perfect game by the Giants. Coming off a Game 7 win over St. Louis on Monday night, they looked totally fresh.
"We played our last game only two days ago," Sandoval said. "We're still hot. We just came here and played our game."
Verlander, the reigning Cy Young winner so dominant in this postseason, looked uncomfortable from the get-go and constantly pawed at the mound.
As fans filed out singing along with Tony Bennett's standard "I Left My Heart in San Francisco," the final score raised a nagging question for manager Jim Leyland and his favored Tigers: Did too much rest after a playoff sweep of the Yankees mean too much rust?
Tagged by Sandoval for a solo shot in the first inning, Verlander could only mouth `Wow!' when the Giants star launched a two-run drive in the third that set off another blast of fog horns. Sandoval reprised his power show from this year's All-Star game, when his bases-loaded triple highlighted a five-run first inning against Verlander.
And if there was any doubt that Verlander was shaky, the best sign came in the fourth. That's when pitcher Barry Zito, a career .099 hitter, sliced an RBI single with two outs off the current AL MVP for a 5-0 lead.
The festive crowd stood and applauded when it was announced that Verlander was being pulled for a pinch hitter in the fifth. Sandoval gave them another reason to get up moments later when he hit a solo homer off reliever Al Alburquerque in the fifth, answering the cheers by waving his batting helmet in a curtain call.
The Tigers seemed out of sorts in their first game following a five-day layoff. That was an issue in 2006, too, when Verlander and his teammates had nearly a week off before getting wiped out by the Cardinals.
"I'm one that's been around long enough to know that a lot of things happen in this game. This was a big-hyped game with Justin, probably a lot of pressure on him," Leyland said.
"But I don't think it had anything to do with the pressure. His fastball command was not good. He got out of sync. He got on fast forward. He just did not pitch well tonight. It's that simple," he said.
Pujols homered three times last year, Jackson accomplished the feat in 1977 and Ruth did it in 1926 and again in 1928.
For good measure, Sandoval lined a single his last time up. He donated the bat he used for the first two homers to the Hall of Fame -- no need for it anymore, he broke on the backswing of his second shot.
Sandoval is one of a record nine Venezuelans on the Series rosters, and his power performance attracted attention way beyond the ballpark.
"There goes the third! Pablo makes history," Venezuelan President Hugo Chavez tweeted in Spanish.
Left off the 2010 World Series roster by the champion Giants, Zito shut out the Tigers until Triple Crown winner Miguel Cabrera hit an RBI single in the sixth. The Giants won for the 14th straight time with Zito starting.
"Just the opportunity alone was mind-blowing. Me and my wife were dancing around when I heard," Zito said of getting the Game 1 start. "And then the boys came out swinging and played great defense."
NL championship series MVP Marco Scutaro hit RBI singles after doubles by Angel Pagan. NL batting champion Buster Posey contributed two hits, left fielder Gregor Blanco made diving catches to rob Cabrera and Prince Fielder, and Tim Lincecum came out of the bullpen to prevent further damage.
Game 2 is Thursday night, with Doug Fister starting for the Tigers against Madison Bumgarner.
The Giants kept getting good bounces, with Pagan hitting a double that hopped off the third-base bag. ALCS MVP Delmon Young, meanwhile, failed to run after a tapper in front of the plate that the Giants turned into a double play.
Pitching in San Francisco for the first time since 2008, Verlander scuffed at the rubber while warming up for the first inning, pulled off his glove after badly overthrowing a curve and kept taking deep breaths. He hardly resembled the guy who was 3-0 with an 0.74 ERA in three playoff starts this year.
Ever since two poor outings in the 2006 Series against St. Louis -- punctuated by two throwing errors -- Verlander has worked hard to harness his emotions and 100 mph heat in the early going.
Verlander was trying to settle in when Sandoval tagged him, pouncing on an 0-2 fastball and lining it into the front row over the center-field wall. Quite a start for the team that finished last in the majors in home runs.
Get this: It was the first three-homer game at the stadium originally known as Pac Bell Park since the very first one, when Kevin Elster did it for the Dodgers in 2000. Nope, not even home run king Barry Bonds had done this.
It was certainly a moment of retribution of Sandoval. He was benched during the 2010 World Series, his production and confidence down, his weight up. In the stands on this night, fans wearing furry panda hats celebrated with him.
Verlander got into trouble again the third, and pitching coach Jeff Jones strolled to the mound when the count went to 2-0 on Sandoval. Verlander stared at Jones and shook his head. On the next pitch, Verlander could do little but watch the ball sail into the front row in left.
To some, this looked somewhat similar to the 2010 Series opener. That day, the Giants beat up the supposedly unhittable Cliff Lee on their way to a five-game romp over Texas.
This is how bad it got for the Tigers: Former closer Jose Valverde made his first appearance in 11 days. Leyland still isn't sure what he'll get from the struggling reliever.
Lincecum, meanwhile, retired seven straight batters and struck out five of them. The two-time Cy Young winner has embraced his new role in the bullpen.
Jhonny Peralta hit a two-run homer for the Tigers in the ninth off mop-up reliever George Kontos.