Sammy Sosa shunned by Cubs for 1st World Series games at Wrigley since 1945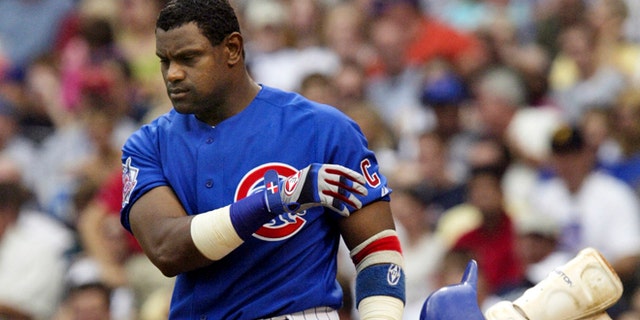 As Wrigley Field readies to host its first World Series game since 1945, the occasion is expected to be punctuated by the presence of some of the Chicago Cubs' most famous players of decades past.
With one glaring exception.
Sammy Sosa – the Dominican slugger who has 609 career home runs and was the face of the franchise during much of the 1990s and 2000s – will be thousands of miles away (in Paris, to be exact) when the Cubs and Cleveland Indians face-off in Game 3 on Friday night.
The retired ballplayer effectively has been shunned by the organization, with Sosa saying he has heard no word from the team's management for three years and has been ignored by a number of his former teammates, including former pitchers Kerry Wood, Rick Sutcliffe and Ryan Dempster.
When questioned by the Wall Street Journal, the former aces as well as Cubs' officials declined to comment.
"Right now, our focus is on baseball and winning the World Series," team spokesman Julian Green said.
For his part, Sosa said he is rooting for the Cubs to win the World Series (although he may not watch the games) and wonders about the reason for his being persona non grata.
"I haven't done anything wrong," Sosa said. "I played almost 13 years in Chicago, and the only thing I did was play good, play hard and give everything I had for the fans. If they don't respect that, if that's not good enough, hey, so be it."
Cubs owner Tom Ricketts has referenced a 2009 report that named Sosa as one of some 100 players who tested positive for a performance-enhancing drug in 2003, before Major League Baseball adopted its current drug policy, when talking about the rift with the slugger.
Sosa is angered by this in light of comments made by MLB commissioner Rob Manfred during a recent visit to Boston about retiring Red Sox slugger David Ortiz, who tested positive for PEDs that year. Manfred's comments cast doubt on the legitimacy of those tests.
"Exactly. Exactly," Sosa said. "What about Sammy Sosa? Maybe you can take it from there."
The PED issue, however, is only part of the bad blood between Sosa and the Cubs.
Sosa's time on the team ended on a sour note in 2004, when, on the final day of the regular season, he arrived late to Wrigley Field, didn't even put on a uniform and left shortly after the game started.
"If the Cubs win the World Series, they will have a whole team full of icons," Al Yellon, a 59-year-old Cubs fan told WSJ. "And Sammy will kind of be left behind. He could join the party if he wanted to. It's really up to him."