Ryan Bader brutalizes Rogerio Nogueira to earn third-round TKO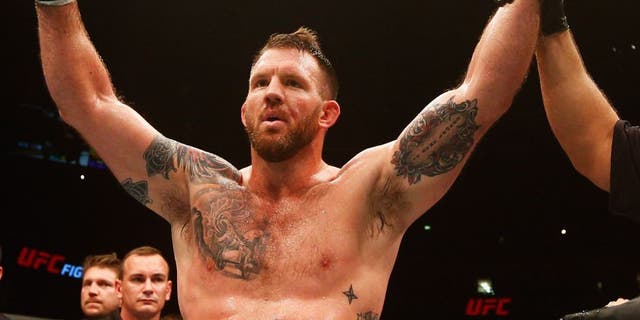 Ryan Bader already had a decision win over Antonio Rogerio Nogueira from 2010, but when the UFC offered him a rematch for Saturday night in Brazil, he didn't hesitate to accept.
Why?
Because Bader felt like he could do an even better job the second time around.
That's exactly what he did as he punished the veteran light heavyweight en route to a TKO finish in the third round.
It was a truly lopsided affair with Nogueira's only real offense coming in the opening seconds of the fight as he tagged Bader with a couple solid punches, but that only forced the former All-American wrestler to push for the takedown.
Once Bader had Nogueira on the ground, it was an absolute mismatch as he pummeled the Brazilian with strikes after trapping him against the cage. Bader methodically trapped one of Nogueira's arms while raining down punches and elbows that landed at will throughout the first round.
Somehow Nogueira survived only see watch Bader do the exact same thing in the second round. Bader kept a relentless pace that had Nogueira in survival mode with virtually no room to breathe between punches.
Bader nearly locked up a rear-naked choke in the second round, but the savvy Brazilian jiu-jitsu black belt managed to wiggle free of the submission although that was about the only positive thing to come out of those five minutes spent largely on the ground.
Offensively, Bader was a wrestling machine as he put Nogueira down at will and from there basically picked his shots while decimating the Brazilian at every turn.
Mercifully, Bader finally saw an opening to get the finish in the third after moving into Nogueira's half guard and opening up with a barrage of strikes that had the referee keeping a close eye on the action.
The succession of punches continued to batter Nogueira and that was enough as the fight was finally stopped at 3:51 in the third round.
"I started with the ground and pound, just needed to posture up and start landing some big blows, started doing that and ended the fight," Bader said following the win.
The win moved Bader to 7-1 over his past eight fights with his only loss coming to No. 1 ranked title contender Anthony "Rumble" Johnson.
The fight with Nogueira also served as the final fight on Bader's current contract with the UFC, and now it would appear with this victory under his belt, he has even more leverage for a new deal with the promotion.
Bader has consistently been a top five fighter in the division and with former champion Jon Jones on suspension until July as well as former title contender Alexander Gustafsson on the shelf due to injury, the UFC needs viable light heavyweight contenders.
Bader certainly fits the bill.
"I'll have to get with the UFC, have the talks with them," Bader said. "You know re-up and I don't see anybody else there in the top five, it's wide open and I deserve that shot so that's what I'm coming for."
As for Nogueira, he didn't want to address his retirement before the fight, but it's impossible to ignore those questions after what unfolded against Bader.
With a 1-3 mark over his last four fights including two brutal knockout finishes, Nogueira is on the wrong side of 40 and it's hard to imagine the UFC wants to see him take much more punishment after what unfolded on Saturday night in Brazil.