Royals' Yost says 'no man alive' could hit the 3 pitches Thor blew past Morales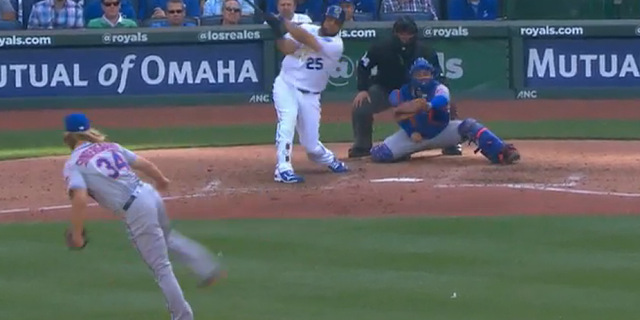 Well this bodes well for the New York Mets should they meet the Kansas City Royals again in the World Series -- or any team.
In a 2-0 shutout of the Royals on Tuesday, the Mets' second- or third-best starting pitcher, Noah "Thor" Syndergaard averaged 92.4 miles-per-hour on his slider against the defending World Series champs and topped out at 95 -- a new high for the 23-year-old.

"I have never thrown a 95-mph slider before" Syndergaard said, per the New York Post. He lasted six innings and struck out nine on the day.
Royals manager Ned Yost offered this assessment after designated hitter Kendrys Morales' bases loaded at-bat in the sixth inning when Syndergaard retired Morales with three sliders, including the one that hit 95 (watch the putaway pitch above).
"There is no man alive who could have hit those three sliders [Syndergaard] threw to Morales," Yost said. "I don't think I have ever seen a 95-mph slider. George Brett was in here [his office] and I asked him if he could have hit that, and he said no way."
Makes sense, considering Syndergaard is actually the Asgardian god of Thunder with superhuman abilities.
So here's the more realistic depiction of Thor's showdown with Morales:

And here he is just trying to blend in as a human: