Royals' Yost, Hosmer impressed with fight from upstart Astros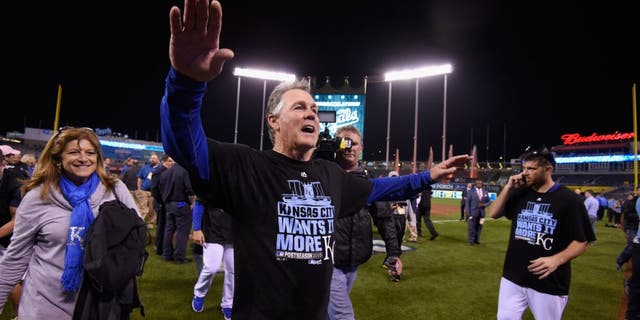 NEWYou can now listen to Fox News articles!
After coming out on top in Game 5 of a hard-fought ALDS battle with the Houston Astros, the Kansas City Royals celebrated their ALCS berth on Wednesday night.
They also took time to pay proper respect to the Astros, who surprised much of MLB this season with their exciting playoff push that started by taking down the New York Yankees in the Wild Card Game.
The Astros were within six outs of locking up the Division Series in Game 4, only see it slip through their fingers due to a furious KC rally that extended into Game 5. Because of the tough, hard-fought battle, Royals manager Ned Yost had nothing but good things to say about A.J. Hinch's energetic young club, which he told MLB.com's Alyson Footer made him a bit uncomfortable: "I was a little bit nervous with that group they had. They're extremely talented. Experience -- you don't have experience until you get it. And a lot of times, you get experience when you win that Wild Card Game. I knew they would be very, very tough. This was a very hard-fought series for us. They're a good team, man."
Yost also said he saw a bit of his own team in Houston's talented young core of talent: "They're athletic, they're energetic, they're a lot like us. They love playing with each other. You can tell they have great defense. And I think the job A.J. did this year with them was fantastic, and that's exactly what I told him."
Royals first baseman Eric Hosmer also heaped praise upon the Astros, who could conceivably be a powerhouse in the AL for years to come now that shortstop Carlos Correa has firmly entrenched himself in the league.
"You've got to tip your cap to Houston right there, they played a heck of a series," Hosmer said, as quoted by Footer. "It seemed like we were coming back or we were behind with our backs against the wall pretty much every single game. So just a great series overall. I'm glad we could come out on top."
Royals general manager Drayton Moore spoke in even more lofty terms when commending Houston's fight: "The outfield that they run out there, they cover this ground as good as any team we've played," Footer quoted Moore as saying. "Just incredible youth, great energy, very talented. They have perhaps the best shortstop-second base combination in the game and very good starting pitching. They've done an unbelievable job turning that organization around."
The Royals did emerge the victors in a tense series, and will now prepare for the Toronto Blue Jays to invade Kauffman Stadium on Friday night in ALCS Game 1.