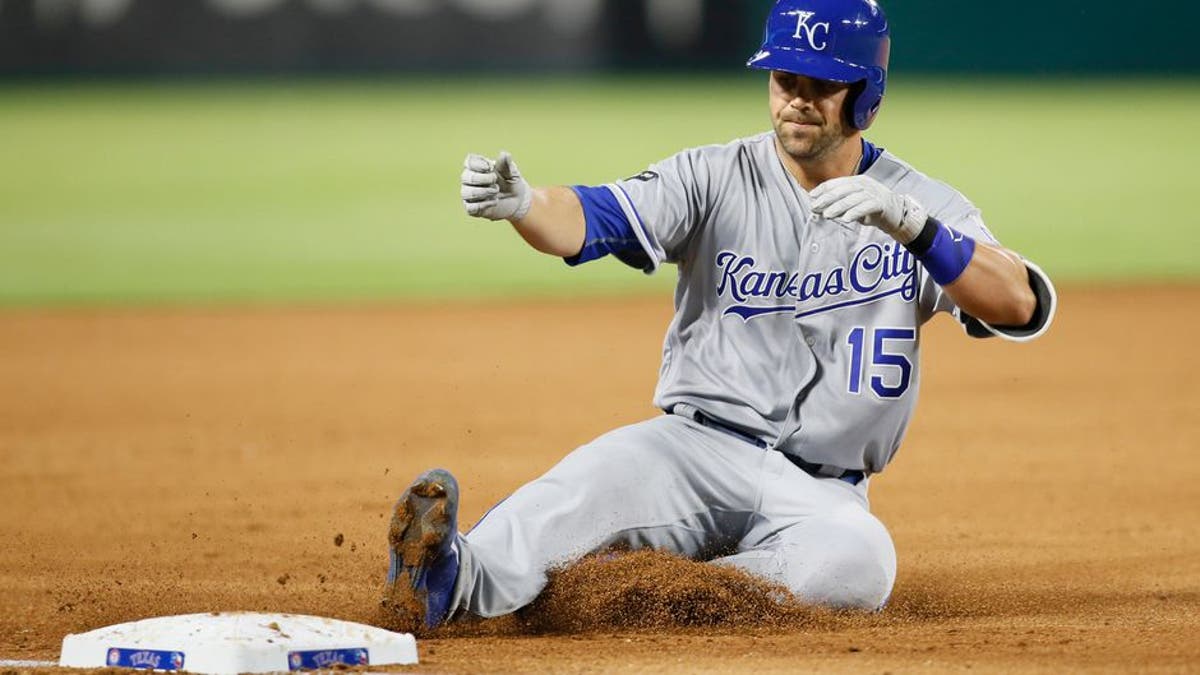 The two worst offenses in the American League won't get any breaks Saturday when the Kansas City Royals and the Texas Rangers play the third game of a four-game set.
Texas, which has the lowest batting average in the American League at .205, will have to find a way to get things going against right-hander Ian Kennedy (0-2). Despite not winning a game yet, Kennedy has a 2.37 ERA.
While that's a tough draw for the Rangers, at least they have been able to scout Kennedy some. That's not the case for the Royals, whose 43 runs scored are the lowest total in baseball.
The Rangers were slated to start A.J. Griffin on Saturday, but he was scratched and put on the disabled list because of inflammation in his left ankle caused by gout.
The Rangers announced after Friday's 6-2 win they called up right-hander Nick Martinez from Triple-A Round Rock. He'll get the nod after starting the season 1-0 with a 5.00 ERA in two starts in Triple A.
Regardless of who is starting, the clubs mustfind a way to get their offenses going. The Rangers' starting lineup Friday featured five playershitting below .200. The .205 batting average through 16 games was the lowest for the club since 1972.
The Rangers know they mustdo better. One of the biggest offenders is free-agent signee Mike Napoli, who is hitting .156 from the cleanup spot.
"I have a plan now to where I can work forward and try to keep that feeling," said Napoli, who collected an RBI single Friday. "Usually when I get this feeling, it's a good sign for me to be able to get out there and do what I want to do. It feels good to be able to compete and have a good feeling in the box. I'm confident that I'll be able to go out there and be able to perform how I want to."
The Royals know what Napoli is feeling.
They are hitting just .210 as a team and have been abysmal in clutch situations. Kansas City has the worst batting average in the majors with runners in scoring position at .149, including a 1-for-8 showing Friday.
That was one of the reasons the club opted to call up outfielder Jorge Bonifacio, who made his big-league debut Friday and went 0-for-3.
"We just get out of it," Kansas City manager Ned Yost said of the slump. "There's no stock way to do it. You just have to stay patient, keep working and hope it turns quick."
Kennedy could ease the burden on the offense, even though he has struggled in his career against Texas. Kennedy is 0-2 with a 4.50 ERA against the Rangers, but he also matched his career high with 12 strikeouts in a 2015 start.
Yost is confident Kennedy will give the Royals a chance to win Saturday.
"He's throwing strikes, he's changing speeds, he's keeping the ball down -- everything that you would think makes you successful," Yost said. "He's pitched great."
While Martinez is making his 2017 debut for the Rangers, he has pitched for them in parts of the last three seasons. He has faced the Royals only once, getting a no-decision in 2015.