Rousey on Holm: 'She's a nice chick that's going to lose'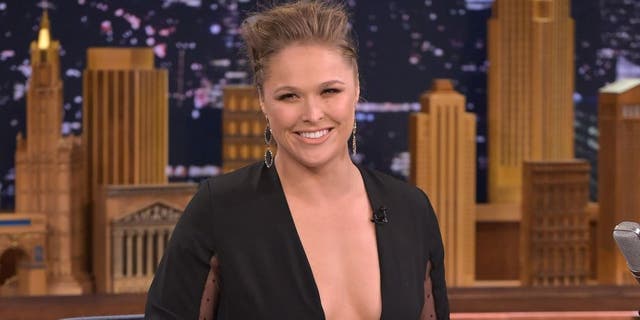 NEWYou can now listen to Fox News articles!
Ronda Rousey is no stranger to an opponent talking trash about her before a fight, but that won't be the case with her upcoming main event bout at UFC 193 in Australia when she faces former boxing champ Holly Holm.
Rousey and Holm are actually cordial with each other and there's no bad blood between the two fighters, but that doesn't mean the outcome will be any different than the bantamweight champion's previous few fights.
Rousey has demolished her competition lately with her last four bouts combined lasting a total of two minutes and 10 seconds. So whether she likes Holm or not won't stop the most dominant fighter on the planet from adding another top-10 fighter to her resume.
"She's a nice chick. I don't have anything against her," Rousey said about Holm while appearing on "The Tonight Show" on Tuesday. "She's a nice chick that's going to lose."
Rousey actually believes her fight with Holm will last a lot longer than the 34 seconds it took her to dust off Bethe Correia in her last title defense.
Holm is a decorated boxer with good striking and long range that Rousey believes could keep her away long enough to give her problems if she doesn't find a solution. Obviously, Rousey plans on solving the puzzle and adding yet another win to her record for 2015, but she can't be careless or Holm will take full advantage.
"This one's going to be a much longer fight because she's a 19-time boxing world champion with 100-percent takedown defense and like head-kick knockouts," Rousey said. "She's undefeated and an amazing athlete, definitely the biggest threat to me. Especially on paper and stylistically, she's the type of fighter you have to be very, very patient with.
"I feel like she's going to try to keep distance and keep far away from me and get me frustrated until I make a mistake and she can try and kick me in the head but it's not going to go like that."
Rousey is doing her best to pay respect to Holm, who is admittedly still relatively green by comparison to the seven-time defending UFC champion.
Of course, Rousey's prediction of a 'longer fight' might still be a record breaking performance considering she actually allowed her last opponent, Correia, to stick around a little longer than the bout should have lasted.
Rousey revealed there were several openings to put Correia away earlier but she let the Brazilian stick around until there was a perfect opening to land a knockout shot. In case you forgot, the entire fight lasted a total of 34 seconds.
"I took my time," Rousey said about her finish over Correia. "It was longer than the last two combined. I could have finished it earlier because she went to the ground; I didn't go to the ground. She tried to close the distance and I could have thrown her and I was no, you're getting knocked out tonight. So it went 34 seconds."