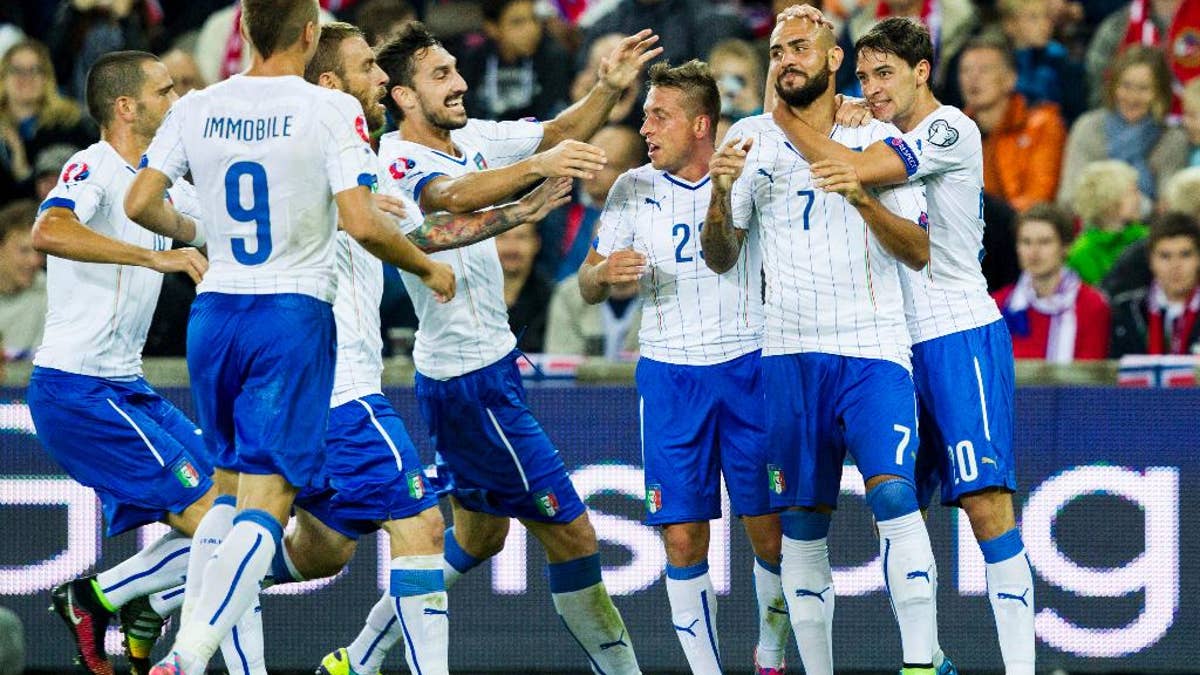 ROME – Simone Zaza is the talk of Italy after leading the national team to two wins in his first two matches with the Azzurri.
Now, the bearded striker takes his unsung Sassuolo club to the San Siro to face Inter Milan on Sunday.
Also this weekend, three-time defending Serie A champion Juventus has injury problems for its match against Udinese, Roma warms up for its return to the Champions League at promoted Empoli and AC Milan visits Parma.
Here are a few things to know entering the second round of the Italian league:
___
ZAZA MANIA: With Mario Balotelli dropped by new Italy coach Antonio Conte and Giuseppe Rossi battling more knee problems, the 23-year-old Zaza has taken over the center forward role for the Azzurri alongside Ciro Immobile of Borussia Dortmund.
In his Italy debut last week, Zaza earned a penalty kick in a 2-0 friendly win over the Netherlands. This week he scored the opening goal in another 2-0 victory over Norway in Italy's opening European Championship qualifier.
Zaza also scored in Sassuolo's Serie A opener, a 1-1 draw with Cagliari.
Sassuolo teammates welcomed him back by serenading him with Italy's national anthem in the changing room at training Wednesday, a video of which Zaza posted on his Twitter account.
Zaza is the first player to represent Sassuolo with Italy and he's also the first player from the southern region of Basilicata to score for the Azzurri.
He grew up watching videos of former AC Milan great Marco van Basten, practiced taekwondo before he turned to football fulltime at 11, and is afraid of flying.
Zaza scored nine goals last season in Sassuolo's Serie A debut. Then in June, Sassuolo bought out the remaining half of his contract from Juventus for €7.5 million (nearly $10 million).
However, Juventus holds options to buy Zaza back for either €14 million ($18 million) at the end of this season, or for €18 million ($23 million) a year later.
Sassuolo was the only club with an all-Italian starting 11 on the opening weekend of the season, and Zaza's strike partner is also considered a future Italy star. The 20-year-old Domenico Berardi led Sassuolo with 16 goals last season, including all four in a 4-3 win over AC Milan in January.
Berardi remains on loan from Juventus.
___
KINGSLEY, TAKE 2: Forward Carlos Tevez and midfielder Arturo Vidal have been added to Juventus' injury list.
Tevez appeared to pull a thigh muscle in training Wednesday and is questionable for the Udinese match, while Vidal has been ruled out with an injured right thigh.
Vidal will also miss Juve's Champions League opener against Malmo on Tuesday and risks remaining out for a visit to AC Milan in the third round of Serie A — the first high-profile clash of the season.
Juventus' midfield maestro Andrea Pirlo was already ruled out for a month with a bruised right hip, and defender Giorgio Chiellini is also out with a left calf injury.
The injuries should open the way for 18-year-old French forward Kingsley Coman to start again. Coman impressed in Juve's opening 1-0 win at Chievo Verona when paired with Tevez. Now, he'll likely pair with Fernando Llorente.
Juventus signed Coman for virtually nothing after his contract with Paris Saint-Germain wasn't renewed.
___
YOUTH REVOLUTION?: Only 45 percent of the players used in the opening weekend of Serie A were Italian, prompting a debate over how to promote more home-grown talent.
New Italian football federation president Carlo Tavecchio is said to be considering a requirement of at least eight players developed in a club's youth system among the 25 members of first squads.
With Italy having been eliminated after the first round of the last two World Cups, new Azzurri coach Antonio Conte is concerned.
"There are squads, starting with the top seven, that play with zero, one or perhaps two Italians," Conte said. "I need players who are starters with their clubs. And if the national team needs to be a leader in this (reform) movement, it needs conditions in place to do so."
___
BENITEZ'S BREAK: Napoli has had a rough start to the season, and fans did not take well to a short vacation taken by coach Rafa Benitez earlier this week.
Napoli had to issue a statement to calm fans down, saying that Benitez had permission to visit his family in Liverpool, England, and that he would return in time for the resumption of training Thursday.
Napoli failed to qualify for the Champions League after losing a playoff to Athletic Bilbao and then struggled before scoring an injury-time goal for a 2-1 win at Genoa in its Serie A opener.
On Sunday, Napoli hosts Chievo.
___
Andrew Dampf can be followed at www.twitter.com/asdampf