Rosenthal: Blue Jays bolster bullpen with Storen, send Revere to Nats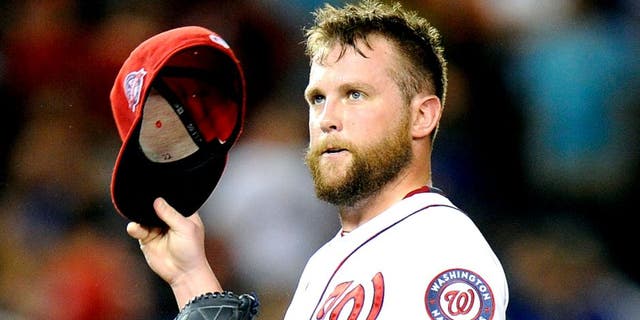 NEWYou can now listen to Fox News articles!
The Toronto Blue Jays have completed a trade for reliever Drew Storen, sources told MLB on FOX insider Ken Rosenthal, sending outfielder Ben Revere to the Washington Nationals.
The Nationals also will get a player to be named and will send cash to the Blue Jays.
The 28-year-old Storen had sought a deal, having lost his closer role in late July when the Nationals acquired Jonathan Papelbon from Philadelphia.
Storen had converted 29 save chances and had a 1.73 ERA when the Nats got Papelbon. Shifted to an eighth-inning role following that deal, Storen struggled and finished the season with a 3.44 ERA without another save. His season ended in mid-September when he slammed his locker in frustration and broke his right thumb.
Storen was 21-13 with 95 saves and a 3.02 ERA in six major league seasons, all with the Nationals. He had a 1.12 ERA in 65 games in 2014.
For all his success in the Washington bullpen, the right-hander also was tagged with two big blown saves in the playoffs.
Storen failed to close out St. Louis in the ninth inning of the deciding Game 5 in the 2012 NL Division Series, and also let a ninth-inning lead slip away in Game 2 of the 2014 NLDS against San Francisco.
Storen joins a Toronto relief corps that relied on young Roberto Osuna as the main closer last year. At 20, Osuna led the team with 20 saves.
The 27-year-old Revere figures to take over the center field and leadoff job that Denard Span held. Span joined San Francisco this week as a free agent.
Revere has hit over .300 in each of the past three seasons. He batted a combined .306 for the Phillies and Toronto last year, with a .342 on-base percentage and 31 stolen bases.
The Nationals had hoped to boost their offense from the left side of the plate in the offseason. Coming off a disappointing second-place finish in the NL East, they recently signed free agent second baseman Daniel Murphy and Span, both left-handed hitters.
Revere led the NL with 184 hits in 2014 with the Phillies. In six seasons with Minnesota, Philadelphia and Toronto, he's hit .295 with 176 steals.
The Associated Press contributed to this report.