Root, root, root for the home team: Blackhawks cheering on Cubs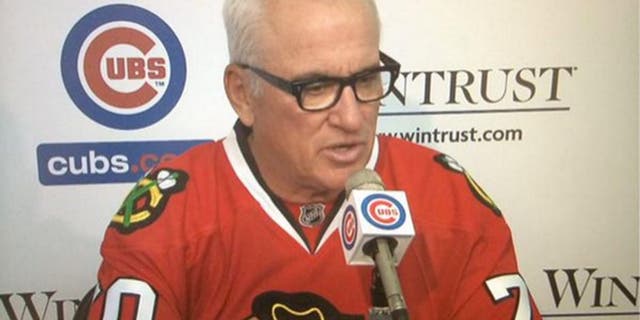 NEWYou can now listen to Fox News articles!
Chicago Cubs manager Joe Maddon donned a Blackhawks jersey during the NHL team's trek through the playoffs in 2014-15. The Blackhawks also have been quick to show their support as the Cubs march through the postseason. John Schippman/Twitter
The Chicago Blackhawks didn't have far to look to find the Chicago Cubs in their cheering section during their three Stanley Cup-winning runs in the last six seasons.
With the Cubs advancing to the National League Championship Series, several members of the Blackhawks haven't been shy about returning the favor.
Backup goaltender and Lemont (Il.) native Scott Darling has taken to Twitter to express his joy for the Cubs, who dispatched the Pittsburgh Pirates in the wild-card matchup and the Central Division-champion St. Louis Cardinals to advance to the NLCS.
Who knows, perhaps Darling will be available to pitch out of the bullpen should the Cubs need another arm?
Forward Andrew Shaw and the Blackhawks' official team website also reveled in the Wrigley Field tenants' accomplishment after the Cubs posted a 6-4 triumph in Game 4 of the NLDS on Tuesday.
(h/t USA Today)