Rookie quarterback showdown lives up to hype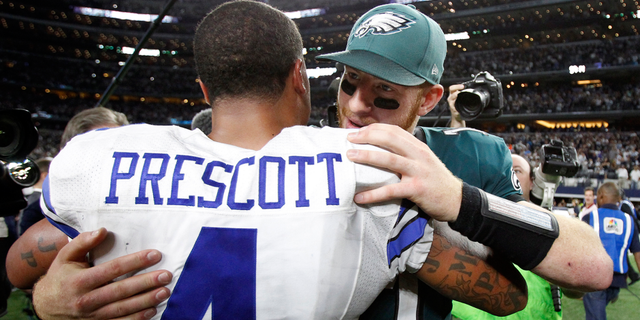 ARLINGTON, Texas (AP) -- Carson Wentz and the Philadelphia Eagles let one NFC East road game get away with a good chance to win, and now they have to prepare for another one.
Wentz never got the ball in overtime after the Eagles squandered a 10-point lead in the fourth quarter, losing the rookie duel with Dak Prescott when the Dallas quarterback threw a 5-yard touchdown to Jason Witten on the first possession of the extra period in the Cowboys' 29-23 win Sunday night.
Instead of being tied with Dallas (6-1) atop the division, the Eagles trail by two games following the sixth straight win for Prescott filling in for Tony Romo, the 10-year starter who is close to returning from a preseason back injury.
Philadelphia (4-3), which dropped its third straight road game, visits the New York Giants next Sunday.
"We have to find a way to get some wins on the road," defensive end Connor Barwin said. "For us, it is just staying focused. Continue to worry about the little things. Continue to have less and less mistakes."
Prescott recovered from a shaky start that included several poor throws, the worst an end zone interception to Jordan Hicks that cost Dallas points late in the first half. The 23-year-old finished 19 of 39 for 287 yards with two scores and the interception.
On the winning play , Prescott started to his right before spinning back to his left and finding a wide-open Witten, who broke Ed "Too Tall" Jones' franchise record with his 204th start.
"A lot went through my mind," Prescott said. "Like, this is my first touchdown throw to Witten. This is the game-winner. Let's get it to him. A special moment."
Dez Bryant caught a tying 22-yard touchdown pass with 3:04 left in the fourth quarter, and each team botched two chances to drive for the winning score after that. Bryant had four catches for 113 yards in his return after missing three games with a knee injury.
The Eagles had a 10-point lead early in the fourth quarter when Wendell Smallwood fumbled the first play after the Eagles had forced a punt. The turnover led to Dan Bailey's third field goal, a 49-yarder to get Dallas within a touchdown.
"We're just a resilient team," Wentz said. "We've got a lot of young guys, and it's tough to lose like that in overtime after we were in control. We're going to learn from it, and we're going to be better."
Things to consider after the Cowboys made it six straight wins following a season-opening loss for the second time in three years:
WHO'S THE GAMBLER? Dallas coach Jason Garrett, generally considered the conservative type, went for it on fourth-and-1 in overtime when the Cowboys were in field-goal range. Prescott got the first on a sneak. Garrett also gave the go-ahead for a fake punt that led to a 30-yard run by punter Chris Jones and a field goal to get the Cowboys within seven in the third quarter.
Meanwhile, Philadelphia coach Doug Pederson punted from the Dallas 36 with a seven-point lead in the fourth quarter even though Caleb Sturgis had already made a 55-yarder -- his 16th in a row. And he elected not to call timeouts for a final chance after the Eagles sacked Prescott with 30 seconds remaining.
ROOKIE RECORD-BREAKERS: Wentz and Prescott will easily go down as the most prolific rookie quarterbacks for their respective franchises this season. Wentz broke Donovan McNabb's rookie mark of eight touchdown passes from 1999 with his ninth on a 5-yarder to Jordan Matthews, who had 11 catches for 65 yards. Prescott's two TD passes tied Troy Aikman's rookie club record of nine from 1989.
SPROLES' TURN: Philadelphia's running backs will just have to get used to wild game-to-game fluctuations with their chances. Darren Sproles had season highs of 15 carries for 86 yards, while leading rusher Ryan Mathews had just four for 10. Smallwood's only carry was the fumble, for minus-5 yards.
ANOTHER STREAK? Dallas rookie Ezekiel Elliott will have to start another streak of 100-yard games after getting 96 yards rushing on 22 carries, although he had another 52 yards receiving. He was trying to become just the seventh back in NFL history with five straight games with at least 130 yards on the ground.