Ronda Rousey comes to grips with not being perfect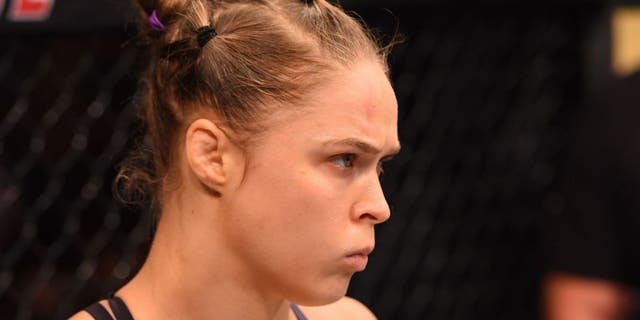 NEWYou can now listen to Fox News articles!
For most of her MMA career, Ronda Rousey was obsessed with being perfect.
She wanted to retire undefeated and leave the sport as the reigning and defending women's bantamweight champion.
Except, of course, now she won't -- Holly Holm put an end to Rousey's pursuit of perfection with a second-round knockout at UFC 193 last November. But now the former champion is putting that angst and anguish in favor of a new campaign for Reebock called "Perfect Never," released this week.
"Here's the thing about being perfect -- perfect never gets truly tested. Perfect never gets to silence its critics. Perfect never gets a shot at redemption," Rousey says in the commercial. "So yeah, I'm fine not being perfect."
It's a harsh lesson that Rousey had to come to grips with after the fight with Holm, but she is also applying that philosophy to her everyday life now as well.
In a related interview, Rousey explained that she's always going to be a polarizing figure in the public spotlight. But dealing with the love as much as she deals with the hate is just part of the job.
"The acceptance of criticism is part of who I am. Like I'm not a lukewarm person. I'm very polar where people either hate my guts or they really, really like me. I'm fine with that and letting the world know that I'm OK with that," Rousey said.
"I try to show as many of the imperfections and flaws as I can. I go out and walk around and I'm not wearing makeup or anything. I like how my face looks. I'm not trying to make it look perfect all the time. I'm just trying to be myself all the time. I think that's realistic and people don't see that too often."
Rousey goes on to say she cares far less about what the rest of the world thinks of her.
"I don't really understand what everybody expects from me or what their idea for perfect for me would be," Rousey said. "I feel like a lot of women are under the pressure of making everyone happy with them all the time."
Now she's more focused on self-acceptance.
"It's good to have examples out there where it's like not everybody's going to like you, but life will go on," Rousey continued. "You'll be OK and you can still love yourself."