Rockets rain 3's in blowout of Spurs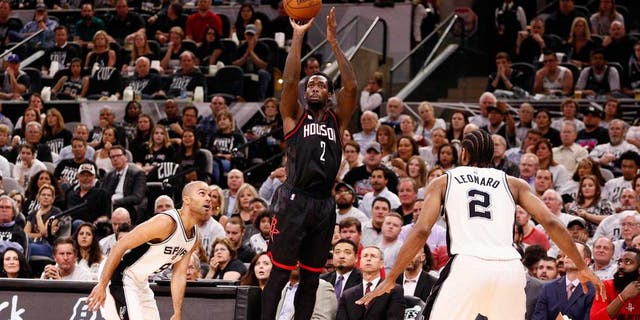 SAN ANTONIO (AP) -- The Houston Rockets were willing to take whatever the Spurs gave them in Game 1 of the Western Conference semifinals.
Houston ended up with a record-setting offensive performance, a huge boost in confidence and home-court advantage.
Trevor Ariza scored 23 points, James Harden added 20 points and 14 rebounds, and the Rockets stormed past San Antonio 126-99 on Monday night, the Spurs' worst loss in a series opener under Gregg Popovich.
"Just taking what the defense gives us," Harden said. "Last series (against Oklahoma City) was a more grind-it-out. We weren't really making a lot of 3s. We had to figure a way to get paint points and in this series so far they gave opportunities to shoot 3s."
The Rockets were 22 for 50 behind the arc, the most 3s attempted and made against the Spurs in their long postseason history.
Houston had six players in double figures, including 20 points and 13 rebounds from Clint Capela.
"They came out ready, they outplayed us tonight," said Spurs forward LaMarcus Aldridge, who was held to four points. "They made most of their shots. Guys competed, but I thought we made mistakes early. They took advantage of it. Once they had offensive rhythm they were rolling. And we never really found ours."
Game 2 is Wednesday in San Antonio.
Houston led by as many as 39 points, including a 30-point lead in the first half, in the opener of the first series between the rivals since the Rockets' victory in the 1995 Western Conference finals.
While the hot shooting wasn't completely unexpected from the explosive Rockets, the defense was. Houston was active in rotating to San Antonio's shooters and had both defenders stay on Kawhi Leonard on screens.
Leonard had 21 points, fighting his way to 5-for-14 shooting.
Tony Parker added 11 points and Jonathon Simmons had 10 for the Spurs.
"Obviously, we are really happy with our defense and what we did," Rockets coach Mike D'Antoni said. "Knowing that this was kind of abnormal, they are not going to miss shots like that."
Houston led 69-39 lead in the first half, the Spurs' largest halftime deficit under Popovich.
"They came out hot tonight and we just have to do a better job defensively," Leonard said. "We kind of got stagnant there a little bit. I give my hats to them, they played a great game."
Popovich called a timeout 80 seconds into the game, berating David Lee for a missed defensive assignment that led to a 3-pointer.
It didn't help.
Houston hit 12 3-pointers in the first half, the most San Antonio has allowed to a playoff opponent in the opening two quarters.
TIP-INS
Rockets: Houston owns an 11-6 postseason record against San Antonio, winning all three previous playoff series against the Spurs. … The Rockets have won six straight postseason games in San Antonio. Houston's last postseason loss in San Antonio was May 30, 1995. … Rockets owner Les Alexander bought tickets to Game 1 for about 150 staff members, family and friends, bringing the group in several buses from Houston to the AT&T Center.
Spurs: San Antonio's largest postseason defeat under Popovich was a 111-72 defeat to the Lakers on May 25, 2001, in Game 3 of a four-game sweep in the West finals. … Leonard has scored in double figures in 27 straight playoff games. … Danny Green has 169 career 3-pointers in the postseason, moving past former Spurs forward Bruce Bowen for 24th in league history. … Patty Mills has made at least two 3-pointers in 24 postseason games, second most in franchise history to Manu Ginobili's 62.
ALDRIDGE'S STRUGGLES
Aldridge was held below double figures for the first time in the postseason with the Spurs.
The 6-foot-11 forward was 2 for 7 from the field and did not attempt any free throws.
"I just have to take my time," Aldridge said. "I have to ask for the ball more for sure. And when I get it take my time. Tonight I was trying to rush because there were so many mismatches on me. Normally I take my time. Tonight I was in a rush."
EJECTED
The game got testy in the second half with a pair of ejections.
Nene was thrown out at the close of the third quarter after grabbing Dewayne Dedmon by the throat after the Spurs center and Harden got in each other's face.
"Just talking greasy, talking crazy," Harden said of his run-in with Dedmon. "So, I was standing up for my teammates and that's what it was."
Dedmon was thrown out in the fourth quarter after arguing with officials during a free throw.