Robinson Cano No Longer A Yankee, Signs $240 Million Contract With Seattle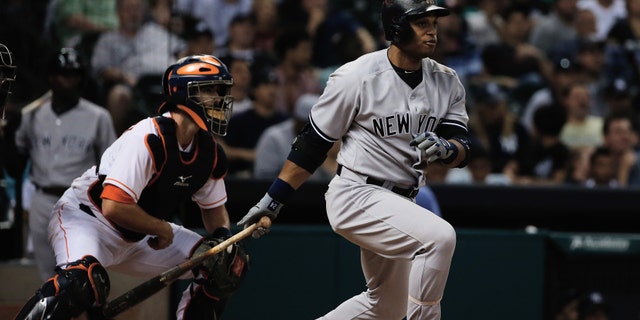 All-Star New York Yankees second-baseman Robinson Cano has signed a blockbuster 10-year, $240 million deal with the Seattle Mariners, ESPNdeportes.com is reporting.
A source told the website that Cano and his agents had face-to-face meetings Thursday night in Seattle with the Mariners' top executives at which the team made its offer, which is contingent on Cano passing a physical exam. According to the source, the appointment is scheduled for Monday
Also, "a person with direct knowledge of the negotiations" confirmed to USA Today the terms of the deal.
Cano's contract would be the third largest in baseball history, tied with Albert Pujols' contract with the Los Angeles Angels. Nos. 1 and 2 were both signed by Cano's now former teammate, Alex Rodriguez, who in 2007 signed for 10-years and $275 million with the Yankees, which replaced the 10-year, $252 million pact he signed in 2000 with the Texas Rangers.
Cano joins a team that went 71-91 last season, finishing fourth in the AL West, with precious little star power outside of staff ace Felix Hernandez. Unless the M's upgrade, his double play partner will go from Hall of Fame shoo-in Derek Jeter to Brad Miller, a rookie last year who hit .265 with 8 home runs in 76 games.
Equally bereft are the Yankees, whose likeliest internal candidate for the second base job would be Eduardo Nuñez, a natural shortstop who hit .260 with 3 homers in 90 games while filling in for Jeter.