Richt 'optimistic' Nick Chubb will play in 2016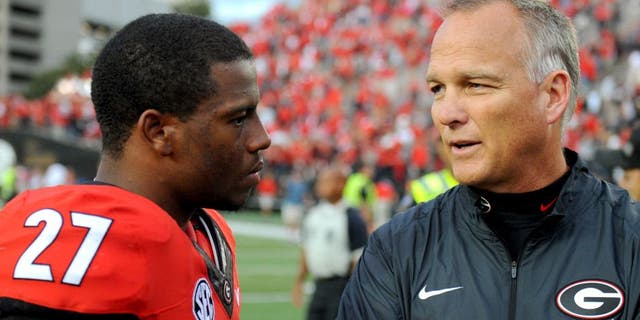 Nick Chubb's career is far from over at Georgia. Christopher Hanewinckel USA TODAY Sports
Despite rumors to the contrary, no one at Georgia has heard anything suggesting star running back Nick Chubb won't return to the field for the Bulldogs next season. Considering Chubb has yet to even have his surgery to repair his knee, any and all discussion on a return is pure speculation from anyone outside the UGA facility at this point.
Georgia head coach Mark Richt gave the latest update with his star running back's status Wednesday.
According to Richt, Chubb will have surgery "in the next week" and judging from all the information he has is "optimistic" that he will return to the field in 2016. As he continues to heal, Chubb will not be making the trip to Jacksonville but is likely to make either the next road trip to Auburn or Georgia Tech.
While his season ended far to soon, don't expect the injury to be the last time Chubb makes the headlines for the Bulldogs. Remember, Chubb's work ethic as a true freshman pushed star junior Todd Gurley to realize his preparation wasn't good enough in 2014. Does that sound like a guy who won't work hard to return?