Richard, Corbin get rematch as Padres face D-backs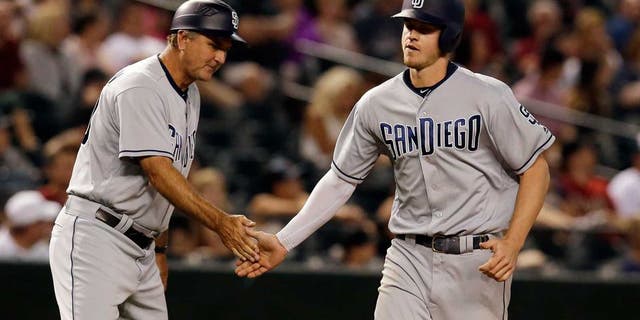 NEWYou can now listen to Fox News articles!
PHOENIX -- The first rematch went the way of the Arizona Diamondbacks.
The San Diego Padres will try to do something about that Tuesday.
Arizona right-hander Zack Greinke avenged a 1-0 complete-game loss in San Diego last Wednesday by giving up one run and striking out 11 Padres in a 7-6 victory over Jhoulys Chacin on Monday at Chase Field. Chacin won the matchup at Petco Park.
A second return match will feature left-handers Patrick Corbin and Clayton Richard in the second game of a four-game series in Arizona on Tuesday. Richard beat Corbin 4-1 last Thursday.
Arizona (13-8) is a team on a roll, having won six of its past nine while losing only one series, the one in San Diego early last week. The Diamondbacks have equaled the best home start in team history at 9-2, and they lead the majors with 112 runs.
Paul Goldschmidt was given a start off for the first time all season in the Monday victory, and he is expected to return to the lineup Tuesday, but Arizona found its way without him. Chris Owings hit a two-out grand slam for a 6-0 lead in the sixth inning in a rally that started when Greinke dropped a single into right field just out of the reach of right fielder Hunter Renfroe. A walk and a single later, Owings hit a 426-foot homer.
"It's a game of inches, right?" Arizona manager Torey Lovullo said. "You get a break or two going your way. I think good teams feel that moment, and they are going to cash in on some opportunities. That is something we have done all year long."
San Diego (8-13) has lost three in a row and eight of 11 despite the hot bats of catcher Austin Hedges and first baseman Wil Myers, both of whom homered Monday. Hedges has six homers this season, all in his past eight games. Myers has hit safely in 14 of his past 15 games, batting .373 with three doubles, two triples, four homers and 11 RBIs in that span.
The Padres trailed 7-1 after six innings Monday before Myers and Hedges got them close.
"It shows a lot of what we can do as a team," Myers said of the comeback. "It shows a lot of fight, and that is something we have going for us."
Corbin (1-3, 3.27 ERA) gave up five hits and three runs in six innings during his previous start against the Padres. Myers hit a solo homer and Erick Aybar added a two-run double in San Diego's 4-1 victory. Corbin is 3-5 with a 3.64 ERA in 12 career appearances, seven starts, against San Diego.
Richard (2-2, 3.04 ERA) got hit a bit last Thursday, giving up nine hits in 6 2/3 innings, but he allowed only one run. He struck out eight and did not walk a batter.
"The sinker is real," San Diego manager Andy Green said. "It is something that plays very, very well. The sixty-something-percent ground-ball rate for a starting pitcher, you just don't see that. It's like borderline Brad Ziegler's ground-ball rate. He gives us an opportunity to win every game he pitches, which is all you can ask for."
Richard is 9-3 with a 3.77 ERA in 14 career starts against Arizona, 4-1 with a 5.20 ERA in six appearances at Chase Field. He beat the D-backs three times at Chase Field in 2012 in his first stint with the Padres before having surgeries to repair shoulder, AC joint and thoracic outlet issues.