RGIII pays a visit to Bears QB Seth Russell post-surgery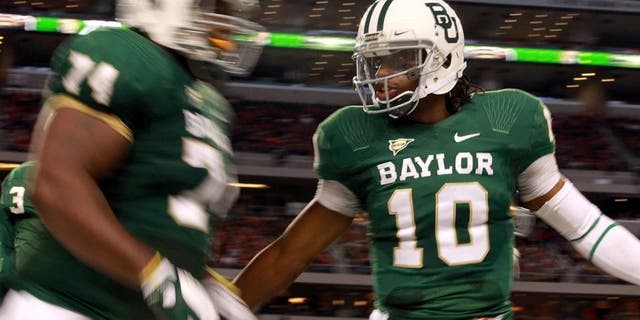 Baylor's impressive string of quarterbacks under Art Briles started with Robert Griffin III, whose statue stands outside of McLane Stadium. Ronald Martinez Lubbock Online
Robert Griffin III had a bye with the Washington Redskins so what did Baylor's most famous quarterback decide to do? He paid a visit to the Bears' most recent Heisman candidate whose season was ended by a neck injury.
RGIII knows a little something about injuries. He tore his ACL in college and in the NFL. He paid Seth Russell a visit in hospital room which, judging by his appearance in the picture, made the Baylor junior's day.
Russell broke a bone in his neck two weeks ago against Iowa State and underwent surgery last Friday. He is expected to make a full recovery.
Baylor coach Art Briles tweeted out the picture of the two strong-armed throwers. Russell will have to get used to that neck brace for a while. And hopefully RGIII didn't wake him up (note the eye mask on Russell's head).
The No. 2 Bears will play their first game without Russell on Thursday night at Kansas State. True freshman Jarrett Stidham will make his first career start.
MORE NEWS: Want stories delivered to you? Sign up for our College Football newsletters.