Rex Ryan admits Pats will win AFC East, won't 'cry about' their injuries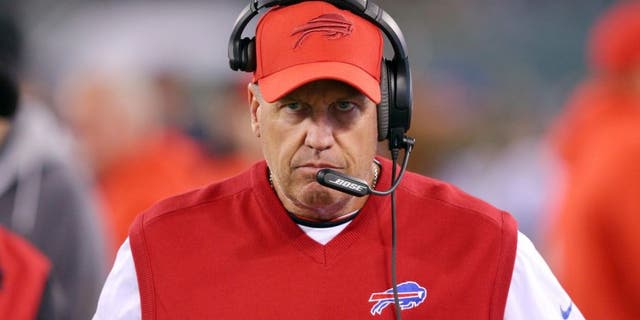 NEWYou can now listen to Fox News articles!
Rex Ryan essentially conceded the division title to New England before Monday night's showdown. Brad Penner USA TODAY Sports
Rex Ryan never fails to give an interesting press conference, and Thursday's was no different.
With the Patriots up next on the schedule, Ryan spent a lot of time talking about the Bills' division rival. That's no surprise. What is surprising, however, is the fact that he admitted something most coaches wouldn't.
"Right now we're second in the division," Ryan said. "We're gonna do whatever we can. Does that give us the opportunity to win the division? No. They're gonna win the division. I don't see them losing four games. I hope I'm wrong, but I don't see it happening."
Ryan's conceding the division already? Few coaches -- or players -- in the NFL would say such a thing, but Ryan isn't like everyone else. And while his comments were shocking, they were also true.
The Patriots are almost a lock to win the AFC East, given their four-game lead with just seven weeks to go. A win over the Bills on Monday night would give them a five-game lead with six game remaining, all but securing their division title. Ryan won't give in that easily, though.
"I'm just telling you the facts," he said. "The only thing I'm focusing on is beating them right now, on Monday night -- and we ain't conceding that, I promise you."
What's working in the Bills' favor this week is the number of significant injuries the Patriots are dealing with. They'll be without their starting left tackle, running back, and wide receiver -- all of whom played a huge role on offense earlier in the season. Still, Ryan won't take them lightly, and he certainly doesn't feel bad for them.
"First of all let me cry about it." he said with a laugh. "Injuries are part of the game. They're a good team."
The Bills have dealt with their share of injuries, too. Sammy Watkins, Tyrod Taylor and LeSean McCoy have all missed time this season, and Bill Belichick certainly wasn't crying about it then. As Ryan said, injuries are a part of football.