Reports: Khloe making medical decisions for Odom; divorce never final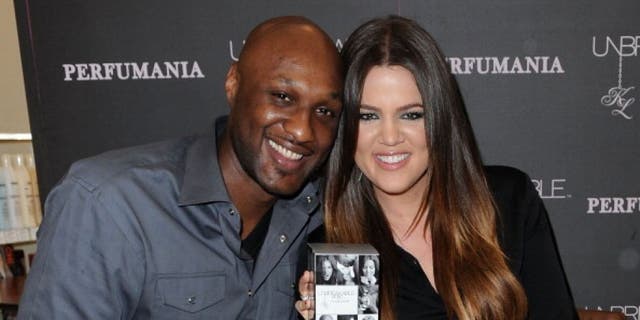 NEWYou can now listen to Fox News articles!
While reports about Lamar Odom's condition have varied wildly since the former NBA and reality TV star was hospitalized Tuesday after being found unconscious at a Nevada brothel, one fact that is not in dispute is that estranged wife Khloe Kardashian has not left Odom's bedside since rushing to the hospital with family members after learning of the news.
And on Wednesday, several outlets reported another piece of news that has Kardashian facing some of the most agonizing and difficult decisions of her life.
Multiple outlets have reported that though Kardashian and Odom both signed divorce papers in July, a judgment was never entered into court and thus their divorce was never finalized. That means the two of them remain legally married and thus, according to the reports, Kardashian is in charge of making all medical decisions for Odom.
"(Odom) never signed a living will, so Khloe is making decisions for him," a source told People Magazine, adding that the 31-year-old Kardashian "is lost."
TMZ reported Wednesday that the delay in the granting of divorce is due to "an extreme backlog in the family law courts," and that the divorce is not expected to be finalized for two more months.
TMZ also reported that Kardashian has "already made several" medical decisions on Odom's behalf.
TMZ reported Tuesday night that Odom, 35, had suffered multiple strokes and organ failure, and that he was comatose and breathing with the assistance of a machine.
The Nye County Sheriff's office held a news conference on Wednesday, during which time Sheriff Sharon Wehrly confirmed Odom is on life support.
According to Wehrly, an employee at the brothel, Love Ranch, told 911 dispatchers that Odom was found unresponsive with blood coming from his nose and mouth.
The caller said Odom had been doing cocaine and had taken up to 10 tabs of a sexual performance enhancer over three days. Odom bought the supplements, called Reload 72-hour Strong, at the brothel.
His one-month courtship of Khloe before their huge 2009 wedding was taped for the E! network, and Odom appeared on nearly two dozen episodes of "Keeping Up with the Kardashians" as well as other family spinoffs, including his own "Khloe & Lamar" show in 2011 and 2012.
Kardashian called him "Lam-Lam" and worried openly about him on the show. Even after they split up in 2013, cameras recorded her calling him and checking on his welfare.
People always seemed to root for Odom, whose prematurely weathered face wore the impact of his personal tragedies in a friendly way. And news of his hospitalization brought an outpouring of dismay and encouragement from his friends and family.
Kobe Bryant joined Kardashian and some of Odom's childhood friends at his bedside after a Tuesday night Lakers game in Las Vegas.
-- The Associated Press contributed to this report