Reports: Hall of Fame hoops coach Larry Brown steps down at SMU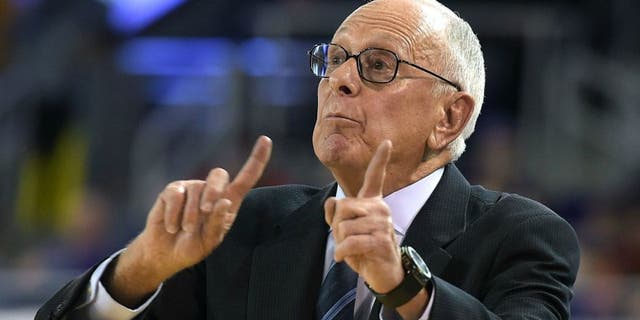 NEWYou can now listen to Fox News articles!
Basketball Hall of Famer Larry Brown is resigning as the head basketball coach at SMU because of a contract dispute, according to multiple reports.
Asked to explain his decision to step down, Brown told ESPN, "I've got nothing else I can say right now."
SMU assistant coach Tim Jankovich reportedly will take over as head coach.
Brown, 75, has spent the past four seasons with the Mustangs, going 94-39 and reaching the NCAA Tournament once. The program self-imposed a postseason ban last season -- when the Mustangs went 25-5 -- because of an NCAA investigation into possible academic violations. Brown also served a nine-game suspension imposed by the NCAA.
The well-traveled Brown also has coached at Kansas (1983-88) and UCLA (1979-81) in the college ranks, and professionally with the Charlotte Bobcats, New York Knicks, Detroit Pistons, Philadelphia 76ers, Indiana Pacers, Los Angeles Clippers, San Antonio Spurs, New Jersey Nets, Denver Nuggets and Carolina Cougars.
Brown has a 271-100 record in the collegiate ranks and is 1,327-1,011 in the NBA/ABA.