Report: Dolphins could make changes at WR, RG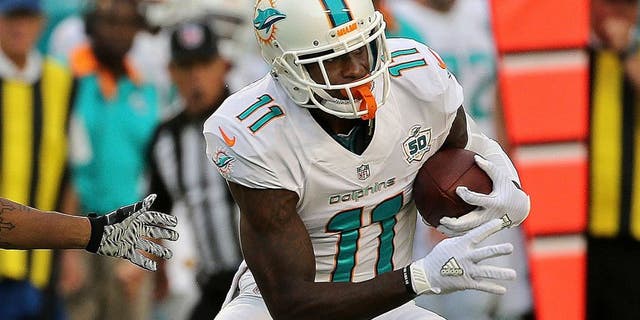 NEWYou can now listen to Fox News articles!
DeVante Parker could crack the starting lineup soon. Mike Ehrmann Getty Images
It's hard to deny that the Miami Dolphins have had their fair share of struggles on both sides of the ball. On offense, there's been a serious struggle to run the ball with any sort of success, while the line hasn't done a great job protecting Ryan Tannehill.
Due of those struggles, the Dolphins are reportedly considering making a few changes -- one of which is at right guard. Rookie Jamil Douglas has been the starter this season after beating out Billy Turner in training camp, but he's struggled thus far. According to Armando Salguero of the Miami Herald, the Dolphins are considering putting Turner back into the starting lineup.
Along with changing up the starter at right guard, Miami may make a switch at wide receiver. Greg Jennings is the player likely to get the boot, with either Kenny Stills or DeVante Parker replacing him. Jennings has started all four games this season, but has caught just seven passes for 54 yards. It's not that Stills or Parker have played much better, but it's hard to defend Jennings' lack of production in four starts.
In Week 4, Stills caught five passes for 81 yards -- his best game with the Dolphins. A move to Parker or Stills could provide a spark for the Dolphins, as both have more big-play ability than Jennings. Whether one or the other will get the start Sunday remains to be seen, but a move away from Jennings could be coming.
MORE NEWS: Want stories delivered to you? Sign up for our NFL newsletters.