Report: Bills players say Beckham Jr. threw several punches during game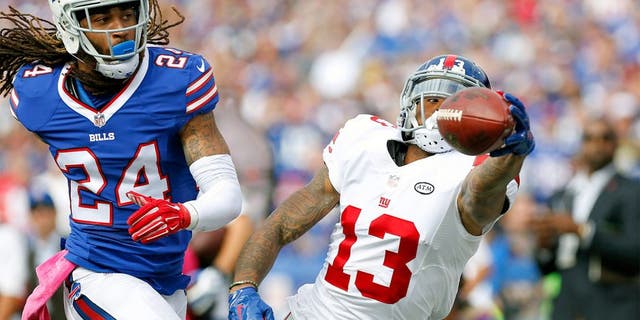 NEWYou can now listen to Fox News articles!
For the most part, the Buffalo Bills were manhandled by the New York Giants on Sunday as they fell, 24-10. However, the Bills refused to let Odell Beckham Jr. rough them up.
Beckham was held to five catches and 38 yards, and apparently he wasn't happy about being shut down.
According to Tyler Dunne of the Buffalo News, Bills players say that Beckham threw punches after the whistle on multiple occasions. Linebacker Preston Brown was flagged for a 15-yard unsportsmanlike penalty after attempting "to be [a] peacemaker," which is when Beckham threw a quick punch. Brown retaliated and was flagged, but it sounds like it wasn't for no reason.
Both Brown and safety Duke Williams claim that Beckham punched them after plays were over, while cornerback Stephon Gilmore had his own opinion of the wideout, too.
"I don't know what's up with him," Gilmore said. "He acts like nobody's supposed and you're supposed to let him catch the ball. He's weird. He gets mad when you play physical with him. He's weird."
Beyond Beckham's alleged cheap shots, Gilmore isn't impressed with the second-year receiver. He wouldn't consider him to be as good as his teammate Sammy Watkins.
"I don't really watch TV and listen to the hype. I study guys on the film and then I judge him," Gilmore said. "He's not Sammy Watkins. He has good hands, he can catch. He's good but he's not what people think after that one catch."