Remembering 15 members of the NASCAR community who passed away in 2015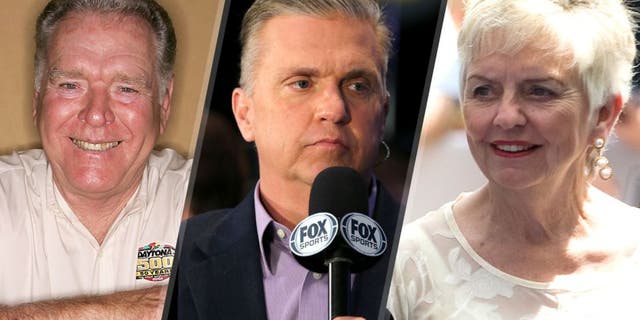 On this, the final day of 2015, we remember some friends and family from the NASCAR community whom we lost in 2015.
Judy Allison -- The wife of NASCAR Hall of Fame driver Bobby Allison for 55 years, Judy died in December following complications from surgery at Iredell Memorial Hospital in Statesville, North Carolina. She was loved and respected by the NASCAR community for her courage and compassion.
Buddy Baker -- The 1980 Daytona 500 champion and popular co-host of the SiriusXM NASCAR Radio show "The Late Shift" passed away in August from lung cancer. "Do not shed a tear. Give a smile when you say my name. I'm not saying goodbye. Just talk to you later," Baker said on his final show.
Duane Barnes -- Longtime Michigan International Speedway employee Duane D. Barnes died in July at the age of 55. Outside of MIS, where he worked for 27 years, Barnes was best known as the driver of the jet dryer that Juan Pablo Montoya struck during the 2012 Daytona 500.
Mark Bieberich -- JTG Daugherty Racing's Mark "Biebs" Bieberich passed away in October at the age of 45. A veteran of the sport, he was a longtime mechanic and car chief with vast experience in NASCAR.
Steve Byrnes -- One of the most respected journalists in motorsports, longtime NASCAR on FOX anchor Byrnes died in April after a battle with neck cancer. The spring Sprint Cup race at Bristol Motor Speedway was renamed the Food City 500 in support of Steve Byrnes and Stand Up To Cancer in his honor.
Ron Bouchard -- A native of Fitchburg, Massachusetts, Bouchard was a former Modified great and occasional NASCAR Sprint Cup Series racer, who won his lone Cup race at Talladega in 1981. He died in December at age 67 after a lengthy bout with cancer.
Torie Costa -- The stepdaughter of NASCAR XFINITY and Camping World Truck Series crew chief Scott Zipadelli, Costa died in December after a more than four-year battle with a rare form of cancer.
Thee Dixon -- The Durham, North Carolina native was the first African-American NASCAR Premier Series team owner. The former owner of Mansion Racing was 76 when he passed away in February. Mike Potter, Mike Skinner and Carl Long all drove for Dixon at one point.
Joan Farmer -- The wife of Charles "Red" Farmer, one of the founding members of the famed Alabama Gang, Joan "Gram" Farmer was 84 years old at the time of her death in June. She and Red were married for 65 years.
Sid Mauldin -- The co-owner of the No 8 NEMCO Motorsports NASCAR Camping World Truck Series team died in December from complications with gastric cancer. He was 61 years old. He was a respected partner of team co-owner Joe Nemechek.
Marvin Panch -- The 1961 Daytona 500 winner died Dec. 31 at the age of 89. He won 17 races in his career. His Daytona 500 triumph came in a year-old Pontiac built by the legendary Smokey Yunick. Panch was badly burned in a sports-car race at the track two years later.
Stephanie Rembert -- The daughter of BK Racing crew chief Joe Williams, Rembert was killed in an auto accident in December. Williams in the crew chief for Jeb Burton and the No. 23 Toyota.
Major General Thomas Sadler -- In 1990, Sadler became the executive director of Speedway Children's Charities, a post he held for two decades. In a highly decorated military career, Sadler flew more than 400 missions in World War II, the Korean War and the Vietnam War. He died in September.
Mary Scott -- The widow of the late NASCAR Hall of Fame member Wendell Scott, Mary was described as both the matriarch of the family, as well as its foundation and rock. She helped Wendell achieve success against difficult odds during his career.
Jim Vandiver -- A Charlotte, North Carolina native and the runner-up at the inaugural event at Talladega Superspeedway in 1969, Vandiver made 85 NASCAR Premier Series starts. He was 75 years old when he passed away in June.