Reliving Silver Slugger Madison Bumgarner's impressive 5 homers in 2015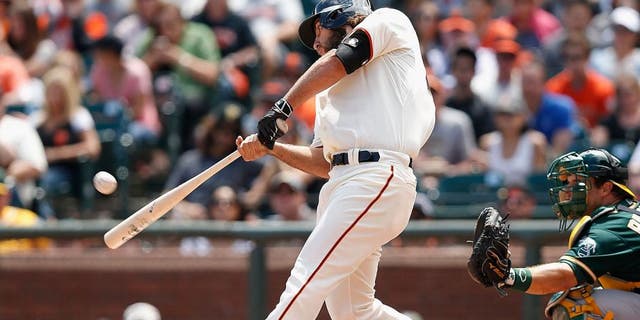 Madison Bumgarner hits a solo home run against the Oakland Athletics at AT&T Park on July 25, 2015. Lachlan Cunningham Getty Images
Now that Madison Bumgarner has been granted his second-consecutive Silver Slugger Award, let's take a look back at the prodigious hitting that earned the San Francisco Giants ace the award.
1. That's a LOUD statement (May 21)
Madison Bumgarner led the Giants to a World Series title in 2014 and was named MVP of the series, but rival ace Clayton Kershaw of the Los Angeles Dodgers won both the NL Cy Young Award and MVP for his masterful regular season.
When the two squared off in San Francisco in May, Bumgarner made the loudest statement he could possibly make by demolishing a fastball from Kershaw, who has been considered the best pitcher in baseball for the past few seasons, into the left-field seats.
2. Off the foul pole (June 28)
Bumgarner's method to success at the plate resides in his ability to capitalize upon pitchers' mistakes -- and boy did he ever take advantage of a mistake from Colorado Rockies reliever Christian Bergman.
With the catcher setting up for a low-and-outside pitch, Bergman threw a meatball right into Bumgarner's alley, which he crushed, sending a towering fly off the left-field foul pole for a solo home run.
3. 3-2, 1 blastoff! (July 25)
Facing the opposing pitcher, the pitcher on the hill is usually pretty confident, but not with MadBum at the plate. With a full count, Oakland A's starter Chris Bassitt tried to challenge Bumgarner over the middle of the plate and paid dearly for it.
The ever-aggressive Bumgarner loaded up and turned on the ball, sending it sailing over the left-center wall.
4. Doing it all (August 16)
Bumgarner was a one-man wrecking crew to the Washington Nationals on Aug. 16. The lefty ace not only pitched a shutout but put a pair of runs on the board by himself.
After ripping an RBI double in the fifth inning, Bumgarner made Nats reliever Casey Janssen pay for missing his spot with an off-speed pitch over the middle of the plate. Bumgarner didn't just hit it out, but crushed it at least 10 rows up the left-field stands.
5. Otherworldly (August 21)
Five days after doing it all against the Nationals, Bumgarner hit his most impactful home run of the season -- on the road.
With the Giants leading the Pittsburgh Pirates, 3-1, Bumgarner utterly decimated a Jeff Locke fastball that nearly landed in the second deck of the left-field bleachers. The two-run shot proved integral to San Francisco's win that day, as they eventually won by a two-run margin of 6-4.
It marked Bumgarner's fifth (and ultimately, final) home run of the season, and elicited a priceless reaction from the Giants' broadcast booth.
"He is not from this world, folks," color analyst Mike Krukow said, bewildered.