Reigning NHL MVP Evgeni Malkin to miss at least 1 game with possible concussion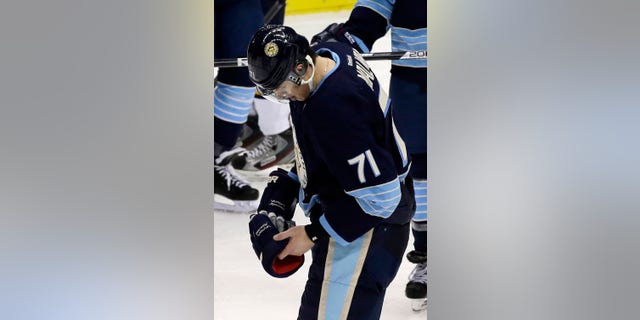 NEWYou can now listen to Fox News articles!
PITTSBURGH – Reigning NHL MVP Evgeni Malkin is still undergoing tests following a scary crash into the boards during Friday night's 3-1 win over Florida. The Pittsburgh Penguins star will miss at least one game.
Penguins coach Dan Bylsma ruled Malkin out for Sunday's game against Tampa Bay. Bylsma declined to elaborate on the nature of what is being called an "upper body" injury but added that Malkin is not hospitalized.
Pittsburgh's second-leading scorer slammed hard into the end boards early in the third period against the Panthers after getting nudged by Florida's Erik Gudbranson. Malkin's back hit the boards at full speed and his head snapped back upon impact. He skated off the ice under his own power but did not participate in an optional skate on Saturday morning.