Ref's early whistle costs Predators a goal in Game 6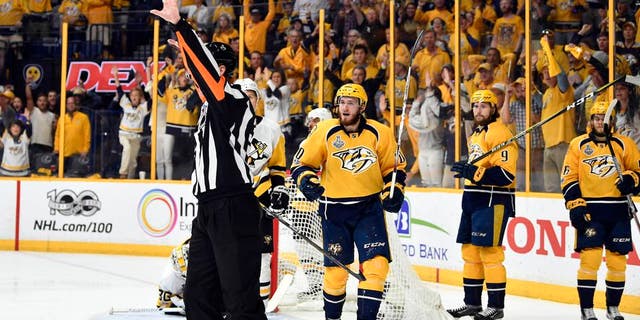 NEWYou can now listen to Fox News articles!
The Predators looked to open the scoring and take a lead in Game 6 of the Stanley Cup Final on Sunday, but an ill-advised whistle from a referee jobbed them big-time.
Just over a minute into the second period, Filip Forsberg fired a shot on goaltender Matt Murray, who made the save but couldn'tcontrol the rebound from trickling through the crease behind him. Nashville's Colton Sisson poked the loose puck into the net, but not before referee Kevin Pollock lost track of it and blew the play dead.
Whoops.
The premature whistle cost the Preds in a game where they're fighting for their playoff lives (the Penguins held a 3-2 series lead heading into Game 6) so Nashville was understandably steamed at its misfortune.
There'shuman error that factors into officiating but that's an inexcusable blown call, especially given the circumstances.