Redskins' QB Robert Griffin III: 'I've got to be the guy that I know that I am'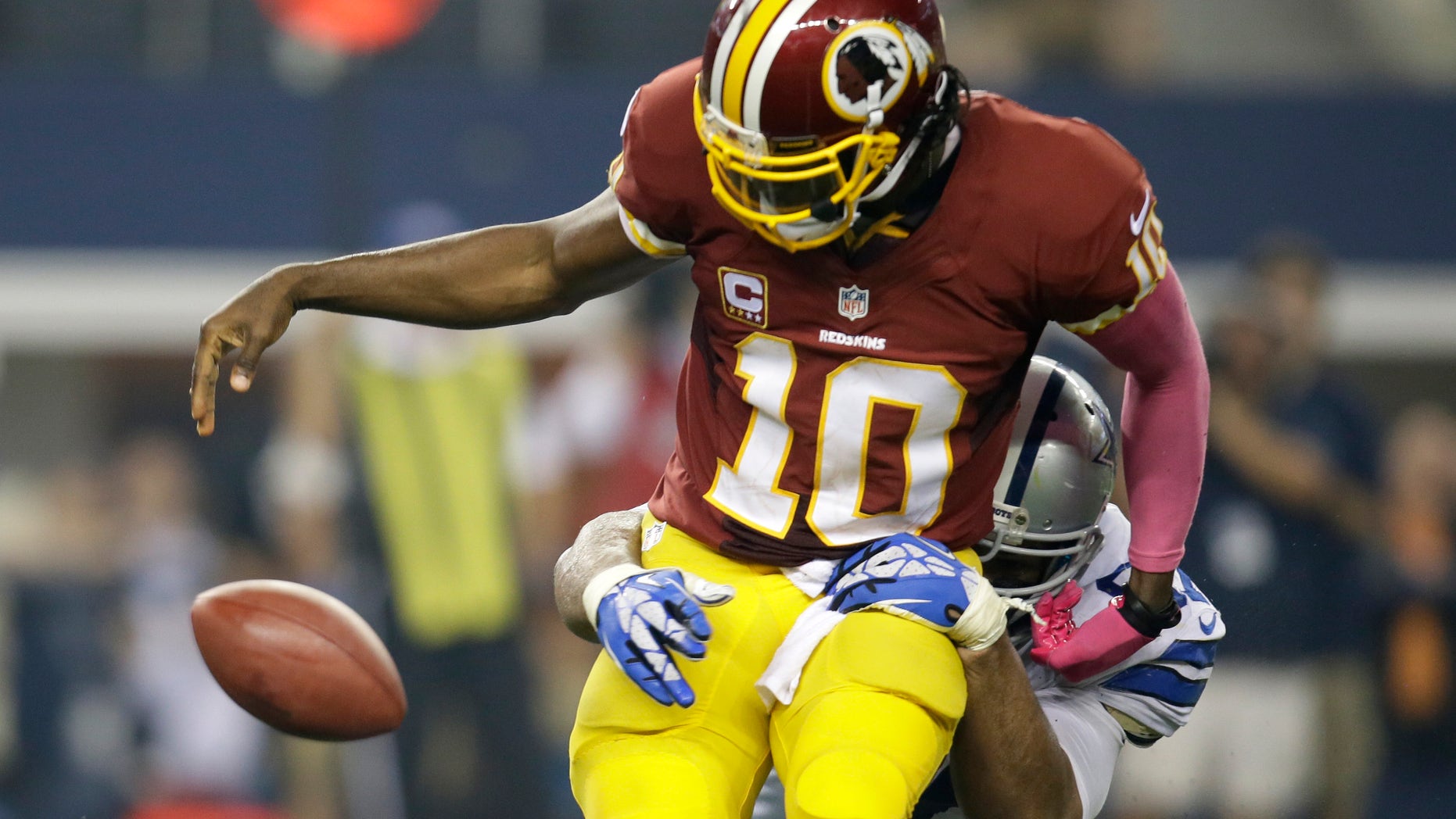 ASHBURN, Va. – Robert Griffin III has his legs back. Now it's a matter of wondering what's happening with his arm.
The Washington Redskins quarterback who nearly set an NFL rookie record for accuracy last year has thrown a wobbler or two and missed more than his share of open receivers during the team's 1-4 start. Part of it is dicey footwork, part of it is miscommunication with his receivers, and part of it is a lack of protection from his offensive line.
"There's some missed throws in there," Griffin said Wednesday. "There's some dropped passes, and all that accumulates into what the stats say, but it's a long year. We've got a chance to make sure those numbers get back up, and we'll make sure it does."
Griffin has completed 59.8 percent of his throws, down from 65.6 last year, and he's already matched his 2012 total of five interceptions. And that includes with the stat-padding that took place in the first two games of this season, when he was piling up meaningless completions and yards with his team behind by multiple touchdowns late in games.
Griffin's favorite target is Pierre Garcon, who was targeted 15 times but caught only six passes in Sunday's 31-16 loss to the Dallas Cowboys. The pair weren't on the same page at least twice, including one play in which Garcon missed a signal from Griffin and went short instead of deep.
"Miscommunications happen when you're trying to adjust at the line and do things," Garcon said as the team began practicing for this week's game against the Chicago Bears. "But it's nothing to worry about. It'll come. We'll get it down pat."
But fellow wideout Santana Moss, who has only one touchdown catch this year after grabbing eight a year ago, said it should already be down pat.
"Second year, man, how much more have we got to learn each other? ... We ain't going to get no more learning than what you know now," Moss said. "I feel like every week you get better, but who needs to learn who more? We've been here two years together, and if we can do it the first year without knowing each other, we can do it the second year."
Griffin was so good last year that he covered up many of the Redskins' flaws. He took a major step toward looking like the 2012 version Sunday when he ran for 77 yards, more than his rushing total in the first four games combined.
He said he was initially thinking too much about sliding and keeping himself safe after returning from major knee surgery — instead of playing with the instincts that won him a Heisman Trophy and the award for NFL's offensive rookie of the year.
"I've got to be the guy that I know that I am. ... Everybody wants me to slide and get out of bounds and do that whole thing, and for me I can't really listen to that," Griffin said. "It's not that you ignore it. I understand that people are concerned, but there is a day that you have to go out there and play with your instincts."
"I can still go out there and play with instincts and slide and get out of bounds," he added, "but this team needs me to do more to help them win and help us win, so that's what I've got to do."
Griffin said he will remain upbeat — "You can't let your record steal your joy," he said — but he also referenced a list of setbacks, including the calls for the Redskins to change their name because of its potentially racist overtones, as hurdles the team is having to overcome.
"With all the scrutiny going on with our team," he said, "as far as the name, my knee injury, the way we started this season, all that stuff can pile up. The good thing about the locker room is that we do have a strong locker room. Coach says it all the time — we have too much character on this team to fold."
Moss, meanwhile, feels the Griffin is getting too much blame for the team's slow start.
"I don't think he's bad right now," Moss said. "I just think collectively we haven't done enough as a team to be good."
Notes: CB David Amerson, who suffered a concussion against the Cowboys, was limited in practice. ... LS Nick Sundberg, who is on injured reserve, had surgery on the torn meniscus in his right knee. He's expected to have a five-month recovery time.
___
AP NFL website: www.pro32.ap.org
___
Follow Joseph White on Twitter: http://twitter.com/JGWhiteAP