Redskins QB Kirk Cousins says he's 'not afraid' to play under franchise tag again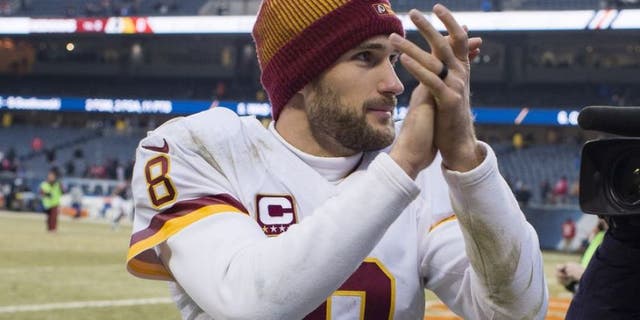 For the second consecutive offseason, Kirk Cousins is in limbo regarding his contract situation. The Washington Redskins have made it clear that they want to bring back their Pro Bowl quarterback, but will that be under a long-term deal or the one-year franchise tag, which he signed last offseason?
Cousins said Thursday at Pro Bowl practice that he's "not afraid" to be tagged for the second consecutive year.
"We will cross that bridge when we come to it, but I would probably do what I did last year," Cousins told ESPN after the Pro Bowl practice. "I will sign it and play with it. I'm not afraid."
Cousins, who threw for a career-high 4,917 yards with 25 touchdowns and 12 interceptions, made almost $20 million last season and could make nearly $24 million if Washington places the tag on him for 2017.
Cousins struggled down the stretch in 2016, throwing five touchdown passes and five interceptions in the Redskins' final five games, in which they went 2-3. Before that stretch, Cousins had thrown 11 touchdown passes to only one interception from Week 7 through Week 12.
But Cousins says he's fixated on making the Redskins a consistent playoff contender after Washington was eliminated in Week 17.
"We want to keep getting back to the playoffs, win playoff games and ultimately win a Super Bowl. That's what you're going to be measured on," Cousins said. "Only one team is happy at the end of the year. That's what we're chasing. I will always be on that quest to do that."