Red Sox acquire 4-time All-Star closer Craig Kimbrel from Padres for 4 minor leaguers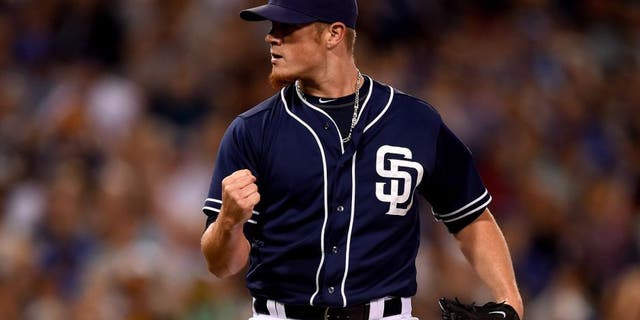 New Boston Red Sox boss Dave Dombrowski did not wait long to make his first big move with his new team.
The Red Sox acquired four-time All-Star closer Craig Kimbrel from the San Diego Padres on Friday, with Boston sending San Diego a package of four minor leaguers. FOX Sports MLB insider Ken Rosenthal originally reported the story.
Kimbrel, a dominant right-handed reliever known for throwing his fastball in the high-90s, has averaged 44.8 saves over the past five seasons -- leading the National League in saves four times (2011-14). He is 19-12 in his six-year MLB career with a 1.63 ERA, spending his first five seasons with the Atlanta Braves before being dealt last offseason to the Padres.
The Padres received four minor league players: outfielder Manuel Margot, infielders Javier Guerra and Carlos Asuaje, and left-handed pitcher Logan Allen.
The former Detroit Tigers general manager Dombrowski was released from his duties on Aug. 4 and hired by the Red Sox as President of Baseball Operations just two weeks later -- replacing former GM Ben Cherington.
Dombrowski was brought to Boston after the Red Sox suffered through a disappointing 2015 season that began with much offseason hype, despite a last-place finish in the AL East the year before -- dropping from 97 to 71 wins after winning the 2013 World Series. But the Sox struggled throughout the summer with both big-ticket, offseason pick-ups Hanley Ramirez and Pablo Sandoval playing like busts, and the team finishing at 78-84 -- in last place for the third time in four seasons.
The Padres, who stunned baseball last winter with several big-name moves, still missed the playoffs in the competitive NL West, finishing 74-88 and 18 games out of first in the division. This week the Padres and GM A.J. Preller have moved two pitchers already, with Kimbrel joining 38-year-old RHP Joaquin Benoit (traded to the Seattle Mariners Thursday) in leaving town -- as baseball insiders wonder if the smaller-meaket team is poised for another traditional winter "fire sale."